Forbidden Places: Exploring our Abandoned Heritage - Tome 3
15/10/2015: The Tome 3
Coming soon!

Buy Forbidden-Places Tome 3
Paru en Septembre 2015, distribué en Europe par Volumen, le livre Forbidden Places Tome 3 est disponible dans toutes les bonnes libraires, sur Amazon, ou mieux, obtenez une copie avec dédicace personnalisée en utilisant le formulaire Paypal ci-dessous (pas besoin de compte Paypal) ou en me contactant directement!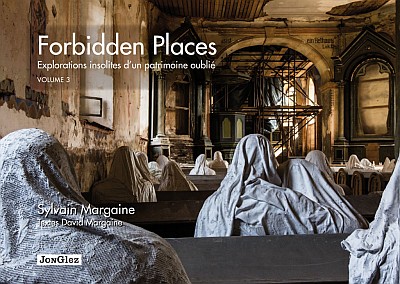 About the Authors
Sylvain Margaine, né en 1977, est ingénieur. Depuis 1998, il photographie et recense le patrimoine oublié dans le monde entier et publie ses explorations urbaines sur son site internet Forbidden Places.
David Margaine, né en 1980, est pharmacien de formation. Il œuvre depuis dix ans comme auteur compositeur interprète au sein de plusieurs formations musicales de la scène alternative bordelaise.
Forbidden Places: explorations insolites d'un patrimoine oublié - Tome 3, de Sylvain Margaine avec les textes de David Margaine - 226 pages, format 23,5 x 29 cm, relié - Editeur: Jonglez - ISBN-: 978-2-36195-130-6
What about the first Two Tomes?
Les deux premiers tomes de Forbidden Places sont toujours disponibles en anglais et en français en suivant ce lien.
1
There are no comments yet