Forbidden Places: Exploring our Abandoned Heritage - Volume 2
10/15/2013: Tome 2
Four years after the first book, the second opus from Forbidden Places : Exploring our abandoned heritage, is coming to stores. This second volume is more personal, photographically superior, and printed on high quality paper. The words of David Margaine objectively recounts the history of these places within, some significant to history, taking you poetically into the heart of each location.
The book focuses on Italy and Spain ; but also explores France, Belgium, Bulgaria, Indonesia and the USA.
Through thirty unusual walks, discover the mysterious places that have been forgotten by society.
Get Forbidden-Places Volume 2!
Released in October 2013 and distributed in Europe by Michelin, the book, Forbidden Places Volume 2 is available in all good bookstores, on Amazon.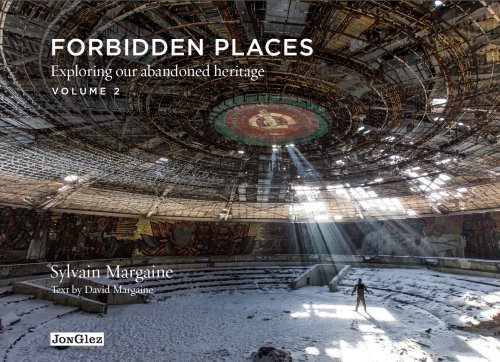 About the authors
Sylvain Margaine, born in 1977, is an engineer. Since 1998, he has photographed and documented the worlds forgotten heritage, also publishing his urban explorations on his website, Forbidden Places.
David Margaine, born in 1980, is a pharmacist by training. He has worked for over 10 years as a songwriter in several musical groups wthin the Bordeaux alternative scene.
Forbidden Places: exploring our abandoned heritage - Volume 2, by Sylvain Margaine with texts by David Margaine - 222 pages, hardcover - Editeur: Jonglez - ISBN-10: 2361950596 - ISBN-13: 978-2361950590.
For 15 years, Sylvain Margaine has been travelling the world in search of these forbidden, all but forgotten, places. Through this book, readers can look around the former headquarters of the Bulgarian Communist Party, lost in the mountains; London's legendary Battersea Power Station; a deserted amusement park in Bali; Antwerp's extraordinary Stock Exchange, devoid of any activity; Russian helicopters abandoned in Bruges; a phantom workers' village in Italy; a dilapidated hospital in New York City; and unheeded castles; derelict prisons and asylums.


Comments (3)
Share a link to this comment