Gary, Indiana, ghost town
No Future City?
Another 2006 exploration. to celebrate the 100th anniversary of the city of Gary, Indiana. The city was artificially founded by the United States Steel Corporation in 1906, on the shore of Lake Michigan. Just to to meet the region's needs for the flourishing steel industry. The city reached up to 200,000 inhabitants.
The White flee from Gary (white flight), unemployment and insecurity set up. The city gets more and more empty, encounters major economic problems, and reaches the highest rate of crime of USA. Today, the beautiful huge buildings are demolished one by one, leaving behind large empty spaces.
More info about Gary? Just check the Wikipedia article.
Note: this page shows only some older, abandoned buildings downtown Gary. It does not show the effort done by the city to re-launch Gary in its 2nd century.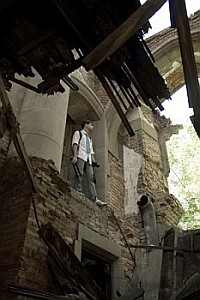 Seth Thomas
aka
dev null
I had the chance to do this exploration guided by Seth Thomas (aka dev null) in August 2006.
He was loving Urban Exploring in general, but Gary was for him more than just another exploration.
Since then, Seth passed away way too early, at the age of 24.
May this page be dedicated to him.
Wherever you are Seth, we are all sure you keep EXPLORING.
1
1-100 of 2048 Comments
George G
Just read about George's passing. I pulled out my 1966 yearbook & found what he wrote to me. We were in orchestra together. Good times & memories. I graduated from EHS in 1967, the last class to graduate from there. Was one of the 13-yr group(at EHS from K-12). We lived at 3rd & Hovey, and 3rd & Porter, then moved to Valparaiso August 1967.
Lakita's Grandmom's house
Lakita, I grew up on 11th and Burr Street. 5700 W11th Ave to be exact. Ivanhoe Elementary, Edison High then later Junior High School, and of course West Side High School are all part of the Burnswick neighborhood.
Made Me Smile
I fell upon this site many years ago and Im so glad to see soooooooo many comments about warm and great memories. I was not born in or grew up in Gary but my entire family is from there. I spent every summer of my life there and enjoyed it greatly. It was still in the bad condition thats its in now but I was always envious of the way my Mother spoke of old houses and neighborhoods where she did this and that. My Grandmother still lives there and we visit often. On behalf of my Mother Loretta Pickett and her siblings Josette Pickett Kim Pickett Glenn Pickett David Pickett and Sherrine Pickett of 11th and Hovey (1179 to be exact) and alumni of Westside and Rioosevelt High School Im sure they will be glad to know that so many others still hold the city near and dear to there hearts. Gary has a rich history and extreme charachter. I look at all the abandoned homes or delapitated buildings with sadness, yet an extreme craving for knowledge of what was once there and what happen. I still love the city even in its current state. I also know the violence of the city as well. For instance the Walton murders that happen right next door to my Grandma's ( Barbara Pickett-Davis) house before I was even a teenager. I hope that when others fine this page they see the good that people remember more than than bad. Gary is home, Respect it, the good the bad and the ugly.
Southaven
Whatever the name of this subdivision was, I seem to remember the streets being in somewhat alphabetical order. Seems we turned off of Rt. 6 on McCool (?), County Rd. 400 0r 450?. There was a "Wolfe Mansion" near by (supposedly haunted).
Has been a L-O-N-G time since going there, so remembering directions are sketchy. Apologies. Will be travelling to Portage end of the month to see only remaining family member left up there.
Wayne H
Wayne, what's your cousin's name. Tell her that I grew up on 11th and Burr Street before moving to Glen Park. What does she do for a living? Myself, I work on MacDill AFB. Depending on how old she is, she may have gone to school with me, or with one of my five siblings. In otherwords, if she was born anywhere between 1949 and 1962 and grew up in Brunswick, chances are she knew one of the six Vargas kids.
Rick
LOCATION, LOCATION, LOCATION!
T.J., during our South Haven years, we lived at 485 West Briarwood. (At one end of the street, the sign said Road; while, at the other end, one said Drive!) It was literally a stone's throw from South Haven Elementary School, where I spent the bulk of sixth grade, in Mr. Stark's class. It was, therefore, a very convenient location for playing basketball, baseball, football, tennis, etc., on the courts and fields located by the school. I am unaware of any such street as O'Sage; but, if they actually lived in South Haven, they did not live very far away from us-- because the entire subdivision was only one mile square!?!
P.S. - Shrine
So sorry to hear/read of neglect of Seven Dolor Shrine. I remember it from days when we visited family. Maybe there is hope.
WAYNE/DAN - Southhaven Identity Disorder
This happened to my sister who moved from Hobart to Southhaven in early 70's (Valpo mail, Wheeler phone, etc) They fumed each winter that NO ONE claimed them the winter months when it came time to plow snow. YOU MIGHT HAVE BEEN NEIGHBORS!...they lived at 611 O'Sage (they have since migrated south to Iuka Mississippi...extreme NE Mississsippi/NW Alabama)
SEVEN DOLORS SHRINE
Thanks, Wayne! I used to go to outdoor masses, on sunny Sunday mornings, during the summer months, from the late 1960s onward, at the Altar of St. Francis of Assisi. During the summer of 1971, when I was 14, I worked briefly on the Shrine's grounds crew, with one of my older brothers. I and two other adolescent workers were fired for allegedly stranding an old friar up an orchard tree!
@Dan-Seven Dolors Shrine
Dan, sadly the Seven Dolors Shrine is in disrepair.
Read it here....... www.nwitimes.com
Hope the above link works!
As for the South Haven Identity Disorder, it still exists. The ZipCode however was changed from 46383 to 46385 some years ago.
CIVIC IDENTITY DISORDER
When we moved from Brunswick to South Haven, in September 1967, we wound up with a Valparaiso mailing address, a Wheeler telephone exchange, and Portage Township schools! At Our Lady of Sorrows parish, however, which had been part of Seven Dolors Shrine, run by the Franciscans, we at least retained our membership in the Gary Diocese, which had been created, by Pope Pius XII, when I was 68 days old.
To Rick again
Rick, it just occurred to me you live in Tampa. A cousin of mine who grew up in Gary lived right down the street from you at 1160 Durbin. She now lives just north of you in Lutz, FL!
@Rick- Lake Station- Hobart
Rick, there was an area of unincorporated Hobart Township which carries a Lake Station mailing address that was annexed by Hobart some years ago (Knob Hill). The same is for the Hobart annexation of Ross Township which incorporates SouthLake(Westfield) Mall and the Route 30 Business corridor(north side) from Mississippi Street East to County Line Road. That area is served by the Ross Township School District (Merrillville) and still carries a Merrillville mailing address even though it has been Hobart for about 20 years.
=============================
Lake Station and the Michigan Central Railroad.
Interestingly, on May 1st, it will have been 148 years The Lincoln Funeral train traversed the Michigan Central route. It left Michigan City about 8:30am and passed through Lake Station about 9:30am local time heading to Chicago. It came from Indianapolis the previous day on the Monon Route stopping at Otis to refuel(unscheduled) and stop overnight at Michigan City for the viewing of Lincoln's body. I think of that from time to time, Lincoln's funeral train actually passed by less than 200 feet from my front door in Portage. The rail line is still used to this day!
. . . AND EAST GARY IS NOW (ONCE AGAIN) LAKE STATION, NOT HOBART!
FROM WIKIPEDIA:
***
"East Gary is the former name of the city of Lake Station, Indiana. The city was known as Lake Station from as far back as 1852 when it served as a depot on Michigan Central Railroad's Detroit to Chicago line. The name was officially changed to East Gary in 1908 in an attempt to lure executives from the nearby US Steel plant in Gary, Indiana into creating a suburban community.
"With another name change in 1977, to primarily disassociate itself from the urban decay and crime of Gary, the city reverted to its more historical designation of Lake Station. Prior to its current location in Crown Point, Indiana, the county seat was located on what is now the west end of Lake Station in a section called Liverpool."
***
Miller is Gary
Since before I was born, Miller was a section of neighborhood in Gary, just as Glen Park, Tolleston and Brunswick are. East Gary was annexed by Hobart in the 80s or 90s.
Gary ???
I always thought that Gary was a suburb of Miller. Who had the beach ? Garyites always drifted out to Miller for relaxation.
There's no place like home
Pete do you live there now? People think I'm ccrazy when I speak of Gary with fondness. I've been to Paris, Cairo, NY and many other places, but there is no where like Gary. I live in Tampa now, it's always bright and sunny here, and I can walk the streets at night, but this place has nothing over the Gary I once knew.
Great Memories
Class of1957 Horace Mann. My first kiss, love, girl friend, life long friends and my birth. I will be buried there.
Aetna?
The 'short' of it........ LOL
Aetna....... roughly US12&20 on the north, 15th Ave. on the south, Lake St. on the east and I-65 on the west.
ACCORDING TO WIKIPEDIA . . .
***
Aetna is a neighborhood in northeastern Gary, Indiana, south of Miller Beach and east of Interstate 65. As of 2000, the neighborhood had a population of 4,942, which was 83% black and 11% white.[1]
Aetna borders directly on Miller Beach to the northeast, but is separated from the Emerson and Pulaski neighborhoods to the west by the industrial corridor along Interstate 65, and from the town of Lake Station to the south and east by the floodplain of the Little Calumet River. Some definitions of the border between the Miller and Aetna neighborhoods place Aetna's northeastern corner at the intersection of Lake Street and the CSX tracks, with the result that Miller Station on the South Shore Line, the populous Glen Ryan subdivision, and half of Miller Avenue, are within the boundaries of Aetna. Other definitions restrict Aetna to the area south of U.S. 20.
Aetna's housing stock is dominated by small single-family homes,[2] with 89% occupancy and 66% owner-occupancy as of 2000.[3] Aetna's housing prices are significantly below the city average.[4] This contrasts to homes in neighboring Miller Beach, which are among the city's most expensive.
Aetna shares with Miller Beach the U.S. 20 retail corridor, one of the major retail areas in Gary.[5] It is home to a 3.5-acre city park, Aetna Park. Aetna is also near the much larger recreational areas of Miller Beach, such as Marquette Park and the Indiana Dunes National Lakeshore. It is served by a single bus route of the Gary Public Transportation Corporation; the same route also serves Miller Beach.
Aetna was founded in 1881 as a company town for the Aetna Powder Company, a munitions manufacturer.[6] The location was chosen in part for its remoteness, in rolling dune and swale country nearly a mile from the small town of Miller. The factory employed about 500 workers, most of whom lived in Aetna although some commuted from nearby towns. Originally the munitions had to be carted to the train station in Miller for shipment, but the arrival of the Wabash Railroad in 1895 gave Aetna its own train station.[7] The plant suffered from frequent violent explosions, often fatal; a 1912 explosion caused six deaths, and another in 1914 broke windows as far away as downtown Gary. During World War I, the factory employed 1200 people.[7] However, it closed after the war, and Aetna's population shrank to fewer than 100.[8]
Aetna was incorporated as a town in 1907.[7] It was annexed by Gary in proceedings lasting from 1924 to 1928.[8]
****
Aetna
Where exactly is Aetna? I know I've been through it hundreds of times but what are the boundaries of the neighborhood? I lived in Brunswick and later in South Glen Park off of 45th Ave.
Aetna/Miller
Hello Everyone,
I grew up in Aetna (1316 Idaho Street) and went to grade school at St. Mary's. My mother died in September, and I never thought that I would return to the area. However, due to Nemo, my flight to Boston was changed to Chicago. I was able to borrow a car and wanted to show my children where I had grown up. Unfortunately I couldn't show them much of St. Mary's since the new charter school had no one to accompany me. And when we drove from Miller to my old home, I was so shocked at how bad everything was. It's such a shame, since I have so many happy memories of my childhood.
Where is everybody?
I haven't seen any dialog for over a month, what's going on?
February 22, 2013 - 19:49
-
Wayne,
Thank You for remembering my brother. I wouldn't expect anything less from our extended "Brunswick Family". Thanks again.
February 08, 2013 - 23:15
THE BIG SWITCH
On Hovey Street, we also went from TUrner 5 to 949, for our telephone exchange. As best I can recall, however, our actual phone number remained the same!?! Thus, TUrner 5-9483 simply became 949-9483-- with a 219 area code, also, of course.
February 08, 2013 - 08:24
Old phone books
Blair, no one in my family would ever dream of asking for money and would be honored to do it. Let me know what you find out and we'll go from there. Also, did you see the post from Marc? He may have what you are looking for.
Wayne, our old house before moving to Glen Park was 5700 W 11th Ave, and Burr Steet (right on the corner) and the phone number was 949-4226. Oddly enough, my father in law passed away two years ago on Jan 17th.
I didn't use anything to find the grave, I learned that Knotts was buried in Oak Hill from a Gary history book. From there I went to the cemetary and asked them for a plot location. As for the previous owners of my parents' home, I knew that the man shot himself in the house in 75 so I went to the library and looked in the obits and found him. I went back a few days and found the article about his suicide. With his name, I did the same thing, went to Oak Hill and asked for a plot location.
I'm trying to find out as much as I can about a Lew Wallace teacher named Mary Cheevers who was murdered back in the 50's. I think that she is buried in Ridge Lawn on Ridge Road.
February 08, 2013 - 05:16
Old Gary Directories
Hello Marc,
Thanks for replying. I will be contacting you. Blair K.
February 07, 2013 - 21:47
Rick
So Rick, what was your old phone number? LOL
If i remember correctly ours was TUrner 5-7002. It later became 949-XXXX (don't remember!) with the early 60's modernization. Utilizing those old phone books should clear that up for me. Going through some old papers i found a magazine from a school project with the address label on it i received in 1962 at our old address.... 4414 W. 11th Avenue. I also found some old mail my parents received including a W-2 for my father from American Bridge.
Rick, About grave sites, what do you use? I have always used FindAGrave.com. For YEARS i could not locate my Paternal Great Grandmothers grave in Louisiana. I finally located it through Find a Grave and there was a photo of her headstone AND someone posted a photo of her with my fathers cousins in 1922. Some chills ran up and down my spine when i spotted the date she passed..... Jan 17, 1927. My father passed away on Jan 17th! (1983).
Wayne Hudak
February 07, 2013 - 18:28
Beauty Shop 1940's
My grandmother, Charlotte Bowman owned a beauty shop downtown Gary circa 1945. Any pictures, memories, or news?
February 07, 2013 - 16:42
-
To Whom It May Interest,
About the mid-80's, I helped a friend mine clean his garage out in Merrillville,In. . Several boxes in the rafters were to be thrown out, however, I kept them, as they contained Gary Directories from the first "Polk Directory" in 1909 and numerous years up to 1975. They are in excellent condition and many have fold out advertisements and Yellow Pages."
If interested, you may call me at:
269-470-5637
Email: premil4000@hotmail.com
February 07, 2013 - 14:33
Vintage phone books
Hello Rick
Thank- you so much for your offer - much appreciated. Last night I send an email to Lake County Library (Merriville, IN) requesting info on Baker Chevrolet Inc in Gary. I am awaiting their reply. If nothing transpires from that I would compensate ($) your nephew for going to the library and researching the dealership for me. Also thanks for your email address. I will keep in touch. Take care. Blair K.
February 07, 2013 - 03:16
Old phone books
Blair K, I just realized that you are in Canada. I'm in Tampa and I don't know when if I'll next be in Gary, but I have family there so if you have no other means, I'll see if one of my nephews would be kind enough to run over to the library on US 30 and have one of the staff there photocopy the advertisement for Baker Chevy that was located on 650 E 5th Ave. If they'll do it, and E-mail it to me, I'll let you know via this web site. Once I have it I'll E-mail it to you. In case this site goes down, you can always send me a reminder at riccvargas@aol.com. Are you looking for 1968 specifically? If you give me the year, I bet I can do one better and have one of the library staff there photocopy an advertisement from the Sunday paper which might just show a corvette.
February 07, 2013 - 03:07
Old phone books
Blair, I am very happy to help. From what Wayne H says, you can't take the phone books out of the library, but I don't know if they are viewable from a web site. I live in Tampa and am able to check out books from the library here for my E-book for free. Next time I'm home I'll get a library card for Lake County and take advantage of what I can get from them for free.
I stayed in the Indiana Room for almost four hours when while there, I found my mom and dad listed in phone books as far back as 1957. Did you know that they listed the head of the household's occupation in the phone book back then? Two of the most fascinating things I found, were obituaries from the turn of the century which went into great detail about how people died to include family members' comments as to who might have killed their loved ones. The other thing that I found was a complete set of books listing every known veteran who served on both the North and South during the American Civil War. Until I found those books, I didn't know for a fact that my mother's great uncle served as a Confederate soldier. But there he was in black and white. It gave me his first name, last name, home town etc. He was a Mexican citizen serving with a Mexican infantry unit in Texas between 1862 and 1865. I also found the name of my uncle in another history book which identified him as the first Mexican known to have settled in Gary, in 1915. The great part about it was that he was still very much alive when I found the article in 2001.
Using their micro slides and their reader, I found the name of the couple who lived in house that I was raised in, in Glen Park, before my parents bought the house in 75. Next I found their obituaries which led me to their actual grave sites at Oak Hill on 45th Ave near Lew Wallace High School. I learned that the couple lived in the home for nearly 40 years before they died and at the grave site I learned that the couple had three children all three buried with them. None of which survived more than a couple of weeks. I also found Thomas Knott's (Gary's first mayor) and Mrs. Knott's grave.
One last thing; you can subscribe to a archive news paper for about $15.00 a year. I'll see if I can't find the web address for you. I get deployed just before I subscribed but now I'm back and I plan on finding it. I hear that Gary's newspapers (back when there was more than one) are in there. If I can't find it for you, I would call the universities' history dept on Broadway and they will know the web site. Fascinating stuff!
Rick
February 06, 2013 - 22:34
Old Phone Books
Hey Rick, thanks for the info! I do know about the Indiana Room at Lake & Porter County libraries but never thought about phone books. Although i did not visit the library (PoCo) myself, i gave a list of books about Indiana railroads to my son to check out for me. Come to find out, i can't check out the books to bring home. Anything in the "Indiana Room" is for in library viewing only. I imagine Lake Co is the same. It would be extremely awesome if the phone books could be viewed online.
February 06, 2013 - 13:30
Baker Chev Inc in Gary IN (Vintage phone books)
Hello Rick
That inquiry would have been me. OMG, Rick, that is AWESOME. Thank-you for replying - much appreciated. How do I go about inquiring about these vintage phone books? Can I do so on their website online or contact them directly? Once again - thanks for your time and info.
Blair K (Canada)
February 05, 2013 - 06:20
Vintage phone books
A couple of months ago someone was trying to get information on a car dealership and no was able to help. Well I have some good new to whoever that was and to anyone else who is interested. The Lake County Library on US 30 in Merriville as a room they call the Indiana Room, and in it, are hundreds of Gary phone books dating back to the first phones. In those phone books are advertisements for just about every business in Gary.
February 01, 2013 - 22:35
NO APOLOGY NECESSARY, WAYNE . . .
. . . except from the people who knocked my old school down and, in the words of Joni Mitchell, "put up a parking lot!" The new public school was built behind that parking lot, where the Holy Rosary Hawks football team used to practice, back in the 1960s. The tennis courts, behind the fire station, are now basketball courts-- although, they did build a new pair of tennis courts, back where the Senior League field used to sit. Whether either court site is flooded in winter, for ice skating, as when I was a boy, I have no idea. Have you noticed that every public school in Gary now seems to be named "the [Whatever] Academy"-- or else is a charter school? I am sure that test scores have soared as a result of the boost in "self-esteem" that such new nomenclature induces....
February 01, 2013 - 03:33
Holy Rosary school correction
I apologize, i assumed when the news reported the plane crashed "near a school", it was Holy Rosary School, not knowing it had been torn down. None the less a school is in the same location, slightly east of where the former HR school stood, The West Gary Lighthouse Charter School.
OBITUARIES
I found Mr. Kasiak's obituary, from almost five years ago:
***
EDWARD P. KASIAK SR. age 81 of Portage formerly of Merrillville and Gary passed away Thursday May 22 2008. Survived by four children: Edward (Karen) Kasiak Jr. of Crown Point Gina (Glen) Brumm of St. John Christina (Kevin) Anderson of Virginia June Kasiak-Gambla of South Carolina eight grandchildren: Paul and Neil Kasiak Bryon and Kristin Brumm Kevin Jr. and Elizabeth Anderson Katie and Julia Gambla two sisters: Rose (late Edward) Waite of Virginia Wanda (Walter) Syjut of Merrillville. Preceded in death by wives Norma and Mary brother Ted Brzychcy. Edward a member of Our Lady of Sorrows Church Valparaiso He was a retired assistant operator from the Gary Sheet & Tin Mill U. S. Steel with 30 years of service a member of American Legion Post 260 a former member of Forresters and Izaak Walton League and Moose Lodge 783. He was a World War II Army Air Corps veteran and attended Tolleston High School. Friends may call at Pruzin Brothers Funeral Service 6360 Broadway Merrillville Sunday from 2:00 to 6:00 p.m. Legion Service at 5:00 p.m. Funeral service will be Tuesday May 27 2008 at 9:30 a.m. from Pruzin Brothers Chapel and 10:00 a.m. from St. Andrew the Apostle Catholic Church 801 W. 73rd Ave. Merrillville with Rev. Douglas Mayer. At rest St. John Cemetery Hammond IN.
[There also was a picture of him, looking very sharp, in his Army Air Corps outfit! By the way, Our Lady of Sorrows was our own new parish, after we moved from Brunswick to South Haven.]
***
I also found a condolence from Gina herself, from just last September, at the Post-Tribune Web site, for an Elaine Denta, who apparently also was a former resident of Brunswick:
***
Dear Mr. Denta and Family,
I am so sorry to hear about Mrs. Denta's passing. You were both such endeared friends to my father, Ed Kasiak Sr., and always so kind whenever I saw you. My prayers and thoughts are with you and your family.
With My Deapest Sympathy,
Gina Kasiak-Brumm
***
Wayne, that ill-fated plane could not have hit Holy Rosary School, only the church; the school was torn down!
More Brunswick
Interesting as more posts are made, more names pop up that i have long forgot about.
@Dan Hand, I went to school at Merrillville High School with a Linda Kasiak. I do believe she was in my class ('69). Could she be related to Gina? I can not locate Linda in my '67 or '68 yearbooks, my '69 yearbook is MIA. You also mention a Petritis..... i worked with a Tony Petritis at the Main Post Office for a while, he was a retired Gary Police Officer. Sometime in the '80's Tony's daughter (or niece from M'ville, i can't remember!) hung out with us at Nab's Lounge in Portage. You also mentioned 2 older brothers born in '47 and '48, they probably played with my brother Tim Hudak (b. Nov 18, 1948). at BLL. Holy Rosary....... my family attended HR but us kids went to public school. My cousins Marilyn and Steve Hudak did attend Holy Rosary school.
@Paul Hill.... you mentioned the Grcevich family lived behind you. Did you see my post from Dec 24th that George Grcevich passed away, just 2 days after Wally Kankowski? I checked out that link you provided for pics at the old BLL field. I gotta scream when folks post pics from cell phones! aaaaahhhhh! LOL There was a small plane that crashed near the LL field about 6 months ago, killing both aboard. A little farther north/NW it would have hit the old Holy Rosary school.
Anyone out there that grew up in Gary Heights in the 50's and 60's? We were the outcasts from Tolleston AND Brunswick!
I WAS A HISTORY MAJOR MYSELF . . .
. . . Alton, when I was an undergraduate at Purdue, in West Lafayette, with a double major in English. On May 13, 2013, it will be 35 years since I graduated, in absentia (I slept in that Saturday), with a B.A. Sigh.... How strange to learn, more than fifty years later, that Bonnie Beck lived just three blocks down, on my very own street, for all of those subsequent years, until either the Becks moved, to Chesterton, or the Hands moved, to South Haven!?! She was not the cutest girl in my Brunswick kindergarten class; but, she had the mostest, nonetheless!
-
Dan, if I remember correctly the Becks were very strong in the Methodist church. I remember Paul being in Demolay, a teen adjunct to the Masons. He had two cute blonde headed little sisters. They lived around 2nd and Hovey. I did not know where they had moved. In the spring of 65 we had debated U.S. involvement in Vietnam, but Frank's death really brought it home. I tried to get into the advanced ROTC program, but failed my physical. I taught HS history for 35 years and I am now retired.
PAUL HILL . . .
. . . if I ever knew that his surname was Ludington, rather than Lud, I long since had forgotten it!?! Ha!!! As I recall, my lovely classmate, at Holy Rosary School, Gina Kasiak, lived on your block. Her mother died, if I recall correctly, in about December of 1962, when Gina and I were in first grade. She was a very sweet girl. My eldest sister, Nancy, had her as a student, at Merrillville High School, as I recall, when Nancy was student teaching in English there. Nancy said that Gina even wrote something for class about her late mother, and how much Gina still missed her.
Alton, I figured that you had meant something similar. I was aware of Vietnam for years, as a child in Gary; but, it was in sixth grade, at South Haven Elementary, when it really became a daily fact of life for me, along with national politics. I still believe that 1968 was the most eventful year of American history in my lifetime-- even more so than 1963 or 2001! By the way, Alton, you mentioned the Becks, and I noticed that a handsome young man by that name was among your Class of '65 classmates, at Edison. Do you happen to recall if he had younger sisters named Becky and Bonnie? The latter was in my kindergarten class, and was my first serious crush. We were driven apart by religion-- as I moved on to Holy Rosary, for first grade, while she stayed behind at Brunswick Elementary. Years later, I learned that she was a cheerleader at rival Chesterton High School; and, ironically, a friend who went there, and who was a cheerleader herself, said that Bonnie was thinking of converting to Catholicism, because she was dating a Chesterton football player who was a Catholic, whom she was planning on marrying!?! Sigh.... Again, Alton, do feel free to e-mail me at Yahoo! Doug would be pleased, I know, to get back in touch with you, after all of these years.
-
I said that Vietnam loomed ahead for us. This was because the Vietnam War became real to me in June 1968 when Roy Cuevas knocked on my door to tell me his brother Frank had been killed.
Dan Hand, Alb, Wayne H
I guess I never get tired of talking about Brunswick, especially the BLL. Dan, I lived at 730 Porter Street, right behind the Grcevich family. It was a great neighborhood. Mr. Ludington lived at the corner, and he did have a beautiful yard. I played for the Yellow Jackets, Lud's Motor Sales, and Brunswick Community Club/VFW Post 7237. So much fun. Just a note, if you check out www.eteamz.com there are three pictures (a few years old) of the old BLL.
THANK YOU, SYLVAIN MARGAINE!
After a couple of days, I have just finished reading (or, in many cases, re-reading) each of the more than 2000 posts to this site about my birthplace. What a bittersweet task! Thank you, Sylvain, both for your stunning photographs, and for allowing us Garyites, current and (especially) former, not only to comment upon them, but to relate our own recollections of what Gary has meant to us, individually and collectively. Kudos, and merci!
OOPS!!!
I just now noticed that in one of my earlier messages, here, I mistakenly said that Apollo 8, with Gary's Frank Borman in command, was circling the Moon on New Year's Eve, in 1968. I should have said Christmas Eve, of course. Mean culpa!!
MY BROTHER DOUG . . .
. . . would like to get back in touch with you, Alton. If you would like to do so by e-mail, please write to me at Yahoo! (Dan_Hand@ . . .), and I then will pass your e-mail along to Doug. That way, you two may both avoid having to have your e-mail addresses posted on-line. Thanks!
BINGO, ALTON!
Yes, that was the nickname that you were known by, at 545 Hovey Street; and, 'Conk' was my nickname, from about the age of two (purportedly because I would climb atop the back of our couch and hit people over the head; but, that is something that I do not recall myself, despite personal memories that stretch back to, at least, the Fourth of July of 1959). Despite his being raised in poverty, in coal-mining country, in rural Illinois, the Coast Guard measured my dad's IQ at 140, back in 1940; so, we Hand kids caught a break there. My cousins were Mick, Bill (or Will) and Tom, born in '47, '50 and '52, respectively. The summer of 1967-- "The Summer of Love," in San Francisco; a summer of rioting, in Detroit-- was our last one in Gary, as we moved just four days after that year's autumnal equinox (9/23/67). It was a trying summer for me, as I came to hate my Little League coach, for Williams Fuel Oil (nicknamed 'Freddy Bear'-- I forget his real last name)-- who once brought dolls to practice, at Edison, and made us hold them while we played, because he said that we had played like girls in our previous game! I remember him and a friend of his joking about Jayne Mansfield's death, in a car crash, at another of our practice sessions at Edison. The Cubs, at least, were a respite that summer, as they rose from tenth place, in 1966, in Leo Durocher's first year as manager, to third place, in his second year. When they beat the Cards on Monday, July 24, they were tied with them for first place-- for the fifth and final time, that season. Little did we know how eventful and tumultuous 1968 was going to be, beginning with the capture of the U.S.S. Pueblo, by North Korea, and the Tet Offensive, in South Vietnam. At least that annus horribilus ended on a bright note, with Gary's own Frank Borman reading from Genesis, on New Year's Eve evening, our time, as Apollo 8 became the first spacecraft to circle the Moon!
Old times
That nickname wasn't Alton Dalton Flippity Flop was it? Possibly due to a large pair of ears. If I remember correctly, you were conk (sic). You had one of the most intelligent families I ever knew. I worked the summer of 67 with one of your Sabocik cousins at Wonder Bread in Tolleston. He was a major Cub fan and I a lifelong Cardinal fan. We had some great smack talking sessions. It was great that the Cards won the pennant and the World Series title that year. Such peaceful times. So sad that Vietnam was on the horizon.
ERRATA, ET CETERA
I should have said that Miss Petritis was the older sister of one of my eldest brother's friends, since I had her just the year after my brother, Doug, and Tony Petritis graduated from high school. Also, I should have said that some of my siblings graduated from Andrean, rather than most, as only Doug and Denny did, in 1965 and 1966, respectively. Mea culpa!
Alton, I not only remember your friendship with Doug, I remember the nickname that we younger Hand kids used to refer to you! :-) I just sent your Edison class' yearbook pictures to Doug, and several other siblings and friends, two days ago, as a matter of fact! Doug's '65 Andrean pictures have not been posted, yet. (I also found the picture of my Aunt Ann, who graduated from Horace Mann, and who taught grade school at Edison and then Brunswick Elementary, where she was when I attended kindergarten there. She and my two other maternal aunts were the ones who lived on Ralston Street, across the street and a few houses down from Mr. Stokes, and who then moved to Glen Park, near his son.) If anyone here has yet to see Gary in Memories (set as one word, followed by the standard DOT COM), you should check it out....
Wayne, my brothers were born in July 1947 and September 1948, respectively. I do not know the exact years that they played in Little League, etc., but I am sure that they were still playing in the early '60s, at one level or another. I know that Doug played American Legion ball, for Post 485, on the Senior League field, well into the mid-1960s. I forget which Major League team he had been on, prior to that. Denny was on Cloverleaf Dairy, as was my cousin Bill, who was two grades behind Denny, at Holy Rosary, but probably only one year behind him in Little League, since he was born in May, while Denny was born in September. We have old slides, digitized copies of which I have on my computer, of their playing baseball at Brunswick Little League, and elsewhere, in fact, from the years before I played. My dad started taking pictures in 1959, so they all would be from that summer or later. After we moved to South Haven, I only played one more year of Little League, which I regret; but, I never felt at home there, as I had in Brunswick. By the way, Wayne, I and five of my siblings graduated from Portage High School, between 1969 and 1976. I have relatives who live there, now, although they were still living in Gary, back when I and my siblings were going to school at Portage High, and Fegely Junior High (now Middle School). Since we lived four miles away from Portage, I never really got involved there-- and there was virtually nothing to get involved with in South Haven, during those years!
to Dan Hand-BLL
Dan, thanks for sharing your experiences living in Brunswick. Your last name sounds familiar. I played at BLL from 1960-1963 and was 12 when we moved to M'ville. Any of your brothers play during those years? Those were great years for many of us and the same as you, we all lauded Mr Stokes for putting us kids first. Sadly, his son passed away less than 6 months ago.
Mike Smith...... yea! He was a 10 year old on our BLL Brunswick Community Club team. My father was our manager and in the spring tryout Mike Smith was grabbed up by my dad! My dad said, "this kid is gonna pitch for us!" He was a starting pitcher for us and rarely did any 10 year olds start in the "majors". His brother Mark played with us too.
You also mentioned the Farmer League...... i played for the Yellow Jackets. I also played for 4-U Truck Stop in the Minors and Bruns. Comm. Club in the "majors".
Again, Thanks For Sharing your story, Dan
Wayne Hudak
Oh! We lived in "Gary Heights" on 11th Ave just south of BLL.
Old Times
Dan, I was a close friend of your brother J. Douglas (Doug) in high school, though he went to Andrean while I was at Edison. It was in that time frame that I last saw Doug. When next you speak to him tell him Alton Bradford asked about him.
BRUNSWICK LITTLE LEAGUE, INTER ALIA
Paul Hill, thank you for mentioning Mike Smith and Danny Anderson! The latter lived directly across the alley from my family. We lived at 545 Hovey Street. The Andersons were on Porter Street. Danny once led me on a bike trip, through heavy traffic, which my parents would have killed me over, if they ever had found out about it. I was years younger (b. 1956), and I was quite frightened, much of the time, following Danny, that day. As for Mike Smith, I remember that he not only threw hard, he made a face, when he threw, that scared the hell out of me! I remember watching All-Star practice one evening, and Mike was playing third base. He got hit in the 'groin area' with a batted ball-- which was the only time that I ever saw him make a more exaggerated facial expression than when he pitched.
I played for Brunswick Little League from 1965 (Red Devils, in the Farmer League) to 1967 (Williams Fuel Oil-- with our beautiful sleeveless uniforms, courtesy of Mr. Stokes, who lived on 5th and Ralston, kiddy-corner from my aunts; when they moved to Glen Park, his son lived on the corner of their new street). In 1966, I played for Lud's Motor Sales, and I still recall Mr. Lud, working in his beautifully kept yard, on 7th Avenue, just around the corner from his store, which was directly across the street from Holy Rosary Church, where I was baptized, made my First Confession, received my First Holy Communion (10/25/64), was confirmed by Bishop Grutka, and served as an altar boy, from 4th grade until the beginning of sixth grade, when we moved east, to South Haven, in unincorporated Porter County.
I went to kindergarten at Brunswick Elementary, on 7th Avenue, and then to Holy Rosary School. One of my classmates, at both, Tom Ranta, just died recently. We had Mrs. Anderson for kindergarten. She had previously taught some of my siblings at Edison. I had Sister Florence for first grade, Mrs. Kimmel for second, a nun whom I cannot recall (for some strange reason) for third grade, Sister Humiliana for fourth, Miss Petritis (the younger sister of one of my eldest brother's friends) for fifth grade, and Sister Agnese for the first two weeks of sixth grade. I have mostly fond memories of growing up in Brunswick; but, since I was still only ten years old, when we moved, my life was much more circumscribed than those of some of my older siblings (I was the eighth of nine kids), who have both longer and broader memories of Gary.
My dad was an electrician, and was employed by Cosmopolitan Electronics, downtown, when I was born, at Methodist Hospital. He also did work for the Gary Police Department, when I was small. He later worked at the Budd plant and for Inland Steel, before landing a forman's job at Bethlehem Steel's Burns Harbor plant. We moved, shortly before Mayor Hatcher's election (he had just won the Democratic primary, cinching the upcoming general election, on November 7, before we moved, on September 27, 1967, as I recall), so that my father's commute would be shorter. When he worked as the Assistant General Forman in the plant's Electrical Department, he worked under the current Chief Justice's father, who was the Plant Supervisor. My father died thirty years ago, at 62, just a few months after taking early retirement.
My mother was born in Indiana Harbor, and graduated from Horace Mann in 1941. She worked at U.S. Steel, during the war. She was a Cubs fan, back then, and, after she died last year, I received the four ticket stubs that she had promised me from the 1945 World Series games at Wrigley Field! Her older brother, my late Uncle Mike, was an underclassman at Horace Mann when Tom Harmon was a pre-Heisman football star, and all-around star athlete, there.
My older siblings all went to Edison, and then, except for my oldest brother, to Holy Rosary. My little sister followed me to Brunswick Elementary, for kindergarten, before heading off to Holy Rosary. My oldest brother went to Andrean, before heading off to Notre Dame. My next oldest brother went to the seminary, but dropped out and finished high school at Andrean, too, before joining our eldest brother at Notre Dame. My eldest sister went into the convent, after grade school, although she dropped out, after six years, and then got two degrees from I.U. Northwest. My next oldest sister spent one year at Bishop Noll and another at Andrean, before we moved. My late brother Dave, who died at 29, also spent a year at Andrean, before we moved. My two eldest brothers were both all-stars at Brunswick Little League. I made the Farmer All-Stars, in 1965, but did not make the major-league all-star team, in 1967, as a ten-year-old, before we moved. My Uncle Mike's three boys, who lived across the street from us, on Hovey, were all also little-league all-stars, I believe. Like most of my older siblings, they all graduated from Andrean, too.
Cudahy
Thank you AIB. I grew up not far from that place but before I was old enough to even notice it, it was gone. When were you at Edison, I have an older brother who graduated from there in 68 and a sister who graduated from there in 69.
Cudahy
You went north on Durbin street until you crossed the tracks and turned left. That was the start of Cudahy. It was mostly recent immigrants from Mexico. It ran west toward Cline avenue. There was the old Cudahy meat plant and there was a metal shredding place also. Edison always had several kids from Cudahy. If I remember right there was a school bus that ran to Cudahy. The Cudahy kids were for the most part good people.
Baker Chevrolet (Gary, Indiana)
Hello John.
Thank you so much for your info in regards to Baker Chevrolet on 5th Ave in Gary - much appreciated. I have heard that this dealership closed in the early 1970's just as you indicated and confirmed. Long shot - would you happen to have anything related to Baker Chev (receipt, matchbook, brochure, newspaper ad, etc. anything with the dealership's name on it). I would pay you for these items. Ultimately, I would like to find an old photo of the dealership back in the day. Google Maps now shows 650 E 5th Ave as an empty lot. John, you helped me out greatly - thank you for replying. Take care. Blair K.
-
Thank you Wayne and Robert. I had read about the train wreck sometime before but I had never imagined it that close to where I grew up. I'm also looking for any information on the odl Cudahey neighborhood that is no longer there.
Rick
Rick & Robert about Karl Malden-Ivanhoe
Yes Robert, Karl Malden grew up on the east side attending Emerson (actually he was born in Chicago). But, his REAL name while living there was Mladen Sekulovich. He worked at U.S. Steel from about 1930 to 1937. Note his 1st name is M-L-A-D-E-N. He used that as his last name for his screen name changing it to M-A-L-D-E-N. Interesting about Karl Malden, is he used family names in several of his movies. He referred to a "Sekulovich" in the movie "On The Waterfront" with Marlon Brando.
RICK: Ivanhoe was on the far west side of Gary. You say you lived on 11th and Burr..... Ivanhoe was very close to there. Ivanhoe was a Railroad Junction near Cline Avenue. It was the junction of the Michigan Central, Indiana Harbor Belt and the Elgin Joliet & Eastern railroads. WHERE the name Ivanhoe was derived from, i do not recall. That is a very famous location in railroad history for the worst Circus Train wreck ever which happened in June 1918. The Hagenback(sp) Wallace Circus. The circus train was crossing over from the MC to the IHB line just east of the EJ&E to get into Gibson Yards in Hammond, and stopped with several of the cars on the rear still standing on the MC line. An empty WWI Troop Train from Michigan came speeding up from behind, ran a red stop signal, and slammed into the circus train killing about 60-70 people. It was determined the engineer had taken meds for a kidney ailment and fell asleep, the fireman just wasn't paying attention or was asleep, i don't remember. There is a book about it. Both of those tracks still exists and are used, along with the EJ&E, now owned by Canadian National. In fact, that crossover track STILL exists at that same location! NOW! you know all about Ivanhoe! LOL
-
Rick, The actors name was Karl Maldon. He lived on the east side and graduated from Emerson High School.
Stores along broadway
Can anyone tell me which neighborhood Carla Maldon the actor came from in Gary. I read that it was the Ivanhoe section, but aside from the elementary school Ivanhoe that I went to in Brunswick on 15th ave, I don't know of any Ivanhoe area.
Baker Chevrolet
I just remembered that just as I went to work for Baker Chevrolet in 1973 ish the name was being changed to "C" Thomas Chevrolet.
Probably named after the new owner Thomas Finucane.
Baker Chevrolet
Response to Blair:
I worked at Baker chevrolet in the early 70's and it was just being sold to a guy out of illinois-Tom Finucane. He owned a For dealarship in Orland Park Ill. "Finnigan Ford" I was the bodyshop manager at Baker for about 2 years, got robbed at gunpoint in my office in 1974? My office faced 5th ave. Walt Highsmith was the service director. I understand the new owner raided the profit sharing plan and ripped off all the employees who were very loyal to the Baker family for years
-
I received your post with great sadness. George was truly a great person. I had not seen George for over 40 years but all my memories are very pleasant. He had one of the greatest personalities ever. He had a sense of humor that wasn't to be believed, but at the same he was a very serious person who always had his priorities straight. He became an outstanding cardiologist just as he had always wanted. He had treated my father at one time during his illness. We were never bosom buddies but we did hang out together some on Porter St. He will be missed.
December 26, 2012 - 07:16
Merry Christmas
It's a chilling 64 degrees here in Tampa and we're expecting rain. The forcast for tomorrow is rain in the late afternoon with a high of 80 degrees. Everything is green and the tourist are everywhere. It really is a tropical paradise in many ways. But I sure wish that I was back home in Gary tonight.
Merry Christmas everyone.
Richard Vargas
December 24, 2012 - 13:26
Tony Zale
Richard, according to the book "Gary, A Centennial Celebration" Tony Zale lived in the "Patch" area of early Gary and graduated from Froebel HS in about 1931. The Froebel area of the Patch encompassed roughly 9th Ave. from the north to 15th Ave. on the south, Broadway on the east and Grant St. on the west. Little Oscar, who rented from my grandmother at one time, was also born in the Patch area and lived at 1313 Harrison Blvd., graduating from Froebel in 1941. No address is given for Tony Zale. My father first settled in the Patch at the end of WW2 but soon bought a home at 7th and Jefferson.
On another note, more sad news.
(Dr) George Grcevich passed away Dec. 15th, only 2 days after Wally Kankowski. George was 1 day short of his 64th birthday, he played BB at BLL with my brother. His younger brother Mark played the same time as me.
For what it's worth..... every one have
A VERY MERRY CHRISTMAS
December 20, 2012 - 20:18
Looking for a long lost friend
I used to talk with a girl named Jennifer. I can't remember her last name but I know you was white and between the ages of 25 and 28. She lived in Gary with her adopted parents and her sisters and brothers. I think her last name started with the letter "D" or "G". If anyone could help let me know. Thanks
December 20, 2012 - 04:50
Tony Zale
Does anyone know where the prize fighter Tony Zale (not his real last name) used to live?
December 18, 2012 - 12:16
Wayne H
Wayne, This is sad news. Wally Kankowski was so much fun to be around. He was our third baseman my last year at BLL. He came over to "study" once in a while, but we usually wound up playing pinball in our basement. My mother liked Wally because when he showed up at the house, it was usually when we had ordered pizza from the Tivoli. Bless his family.
December 17, 2012 - 06:21
Sad News
A good friend of mine when growing up in Gary Heights/Brunswick has passed away. Some of you may have known him.
Wally Kankowski passed Thursday Dec 13 at age 59....... WAY too young! His family moved out to Lakes Of The 4 Seasons where Wally graduated from Boone Grove High School in 1971.
We played ball at BLL, home run derby in the back yard, played with the ice block the milkman left us on Saturday mornings, built cardboard forts, would gather beer cans out of Mr Stack's garbage for crickett (he hated that!), terrorize the neighborhood girls, and had just plain fun.
I Will Miss You Old Friend.
December 14, 2012 - 11:06
-
Richard, his last name was Edwards. I can't remrmber his first name. His older brother was Oscar, a real nice guy. If I remember correctly this guy was released on parole but soon committed another murder and was sent back. He was only about 16 when he killed Mrs Borman.
December 14, 2012 - 05:46
Candy Store
Alb, I remember the candy store at the corner of 15th and Burr very well, our house was four blocks North of there on 11th. Frank Borman was the astronaut he was born and raised in Tolleston. I remember that the poor woman was stabbed to death. Do you remember the name of the guy who killed her? Years later the store was turned into a record/ music store. The building is gone now, and the only thing remaining to show that there was ever anything on that corner is a metal pole with a broken sign atop it which still reads "RECORDS."
December 14, 2012 - 03:34
-
TCP Lighthouse Restaurant, Gary National, Cleaners, Jewel, opening into the parking next to Clark Rd Toytown. You are right Toytown faced north. Frank Grillo's was one of the finest men we could ever know. That's where most of us became Wilson baseball glove fans. He sold A2000s for $29.95. Remember his great selection of model kits. He also sold a 35" plastic bat. We bought so many wiffle balls from him. I bought my first wiffle ball from him when he was on 11th avenue in Tolleston.
My dad did all of the plowing of snow, mowing the grass, and planting and placing of the flowers. I think MLKing was the only place he worked for the postal service. He was on straight days. He was about 6'2" and about 200 pounds.
Sounds like you saw the rumble at lunch at Dairy Castle. A bunch of Harbor guys jumped some Edison guys and worked them over pretty good.
You went into Cudahy on Durbin st. As soon as you crossed the South Shore tracks you turned left. We used to play baseball games against the Cudahy Cubs in the summer. The Guitterez house was the beginning of the Cudahy neighborhood.
December 13, 2012 - 21:27
Richard, Alb, and Paul
First of all guys, Dr. Senics!!! He tried to ruin my teeth! My mom always took us kids to Dr Drakos in Tolleston on 11th Ave. He moved to Glen Park and mom started taking us to Dr Senics, what a huge mistake! That guy was cruel!
Paul..... I do not remember the Sunny Spot but i do remember the Purple Martin gas station on 15th n Clark. You know they gave out those saving stamps just like S&H.... gawd S&H! another memory! EHS was already rough before we moved in 1963. Mom went to pick up my sis from school one day (she usually rode the bus) and i witnessed a "rumble", chains and clubs and whatever they could swing, it was bad. The cops were showing up as we drove off. TOYTOWN..... Frank Grillo was my buddy! There was train set i kept looking at through the summer and fall of 1962. I dropped a hint(wish) to Frank to mention that train set if he ever saw my parents Xmas shopping in there. It worked! I still have the original box out in the shed! I'll have to look and see if it still has the TOYTOWN tape on it.
Richard..... I can still get a Lure today! The one in Portage is still open.... and a great Ham n Cheese they have! The artery clogging fries are great too, they even serve GYROS! The employees wear a shirt that says "Est. 1957" on the back, i would like to purchase one but they always refuse to sell one! Edmar, yes.... Friday evening shopping, mom buying us Waverly pop and Cheetos. Then home to watch Home Run Derby on TV by 6:30 or 7:00. I think it only aired in the spring of 1961. TOYTOWN, it was on the far west end of TCP in the building facing north. There was an opening between that and a building that faced east (TCP was L shaped), in that bldng was i THINK a restaurant and a grocery store? I think the Bowling alley was built later, like 1959 or 60.
Alb.......... gosh, i really wish i could remember your father's face. I probably saw him all the time. I worked inside slinging mail and he was in maintenance. Did he also work at the old downtown Main Office? You say he retired in 1986, so we worked at the same time at the MLKing facility for 12 years! Our father's left us too soon with my dad passing in Jan. 1983. Gosh, it'll be 30 years in a month!
December 12, 2012 - 16:05
-
It's always great to read everyone's memories from Brunswick. Dr. Senics (OUCH!), The Lure, Dog N Suds. When I turned eight, my dad gave me $5.00 for my birthday, and I flew to TOYTOWN and bought a basketball game called BAS KET, little flippers, a ping pong ball, and plastic baskets. My dad and I wore that out. It was getting rough by about 64, but I tried not to notice. My sister Kathy and I had our last year at Edison in 1966. Wayne, I don't remember the White Owl Tavern, we would go to Friday fish dinners at the Sunny Spot (15th and Clark). Cudahey? I remember the smell of the refineries, the drive-in movie, and a billboard for Old Dutch Cleanser near a bridge as you headed for East Chicago.
December 12, 2012 - 12:14
-
Wayne, that DDS was around 5th and Hanley wasn't he. Painless he wasn't. If I remember right the little store on 15th and Burr belonged to an astronauts aunt. She was murdered in a robbery by an Edison student. He sat at my table in SH. Edison was becoming a tough place by then (1964). My Dad worked at the MLKing facility until 1986. He had to retire for health reasons. He died in 1984 from heart disease.
December 12, 2012 - 02:10
Brunswick
Thank you Wayne for taking me down memory lane. My sister in law worked at the Lure in the 70s and, my sister worked at Brunswick Drugs, and two brothers and two sisters attended Edison High School. Untill I was 12, I didn't know that there was another place to shop besides Edmar. I was baptized at Holy Rosary and who could forget Tri City. Where was TOYTOWN. I can't for the life of me remember where it was. Do you remember Shoppers Fair? Wayne, do you have any memories of Cudahey?
December 11, 2012 - 04:06
-
Was the dentist Dr Senics? OMG! He would sour you for all dentists. My Dad worked until 86. He died of heart problems in 88. Was the store on 15th and Burr Bormans. If it is,Mrs Borman was the aunt of the astronaut. She was murdered after school one day by a guy who sat at my table in study hall. Edison was getting bad by then.
December 10, 2012 - 23:38
Richard-Tampa
Richard, i wished i could help you. I didn't live too far from there (11th and Baker), even having an aunt and uncle who lived just south of 11th and Durbin. Seems we just never traveled over to Burr street along 9th or 15th avenues all those years we lived there! If we went to Brunswick Drugs or EHS it was via Clark Rd to 5th ave to Burr. I remember 9th ave that went west from Clark along the RR tracks to Burr, but we rarely used that route. When we went to This Is It, we went south on Clark to 25th ave, then west over to Burr. Do you remember the White Owl Tavern on about 15th and Durbin? It was somewhat east of Durbin. We always bought Friday fish dinners from there. They were good! Because of them i learned to like cole slaw! LOL
Aside from Tri City Plaza my parents frequented Edmar, First Federal Bank, a dentist office i wish to forget, even the Lure along 5th ave. MY favorite place was TOYTOWN! There are more places but i just can't remember them. I wonder if anyone remembers the fruit and vegetable stand that was on the southeast corner of 5th and Clark where Tri City was built? (1957). We left church one summer day (Holy Rosary) and saw smoke billowing from that corner. Dad drove over to there and the stand was burning down! Gosh, My Remember Brunswick brain is burning out! LOL
December 10, 2012 - 23:15
to Alb
Al, i should remember your father, his name just doesn't ring a bell. I bet if i saw a picture of him i would remember. You mentioned that mural on the lunch room wall, wow! A guy by the name of Dave Brummitt painted it and i DO remember that John Deere! I have no pictures of that mural, it was covered up with new paint years before i retired (2008). I think i'll ask my sister if she knew him as she worked in the MLK building too, on the day turn. I worked midnights from late 1974 to 1980, then 3-11 from 1980 till 2008. Maybe because i was on midnights till 1980 is why i don't remember your father. I do remember Joan Hac who worked at the post office, she is Omar Farag's sis, i played LL at BLL with Omar on the same team with Don.
December 10, 2012 - 04:35
Memory check
Does anyone remember the little store right on the corner of 15th and Burr street. Or the pool hall on 9th avenue diagonal from where West Side High School is now?
December 10, 2012 - 02:34
Dump sites
Chris, I grew up at the corner of 11th and Burr Street in the Brunswick area. I don't go back that far, so the only dump sight I know of was the one at 15th and Burr.
December 09, 2012 - 14:54
-
Robert Premil,
Did you go to Lew Wallace. If so what year did you graduate? My daughter, Kathy Combs graduated in 1970.We lived at 4680 Harrison St.
December 09, 2012 - 06:26
Old Bottles!
Hello,
Was wondering if any of you remember any old (pre1930) dump locations in Gary or any of it's neighborhoods. Tolleston, Brunswick etc.
Looking for places to dig bottles in Northern Indiana.
Thanks!
December 08, 2012 - 23:19
-
My Dad worked at the MLKIng facility. He was in the mural on the lunchroom wall along with his John Deere mower. His tomatoes were in the extreme rear part of the property.
December 08, 2012 - 05:03
Mark and Kathy Premil
Robert, you don't remember me but I was a classmate of your brother Mark and your sister Kathy at Riley Elementary. I remember your parents very well and your grandmother, whom I believe lived with you at the time that I knew your siblings. If I recall, didn't your father design the library at 39th and Broadway?
I pray that your family is well, and please remember me to your brother Mark and sister Kathy. Please pass to them my E-mail address which is: Riccvargas@aol.com, and ask them to put the words Riley Elementary School in the subject line so I won't delete it as spam mail. I currently live in Tampa Florida and would very much enjoy talking to Mark and Kathy. I try to get home at least once a year and would love to see them.
December 07, 2012 - 20:20
glen park
The stories of Gary are very interesting. I grew up there (1959 - 1974)...in Glen Park. Many great memories. It was a fine city. My Dad was a great architect in Gary and many of his then "state of the art buildings" are still in use. Sad to remember what it was and see it now. Thanks to everyone for sharing their memories.
December 06, 2012 - 09:05
Danny & Al b
First of all, Danny, i remember Mr Baran taught at Washington Elem. School. The Russian part you speak of, i have no clue! I do not believe foreign language was taught at the elementary level. LOL
AL b.... Seems i would have remembered your father. I remember a "Benny" who was a groundskeeper, at the Main Office on 6th & Mass. Did your father work at one of the Gary stations? Ex. Brunswick, Tolleston, Glen Park, Miller, etc. The part about tomato plants makes me think he worked one of the stations. There was no place to plant tomatoes out back at the Main Office. Did he work at the MLK Drive facility?
December 03, 2012 - 16:41
Mr. Baran
Wayne H----Wasnt Mr Baran the Russian Language teacher? Spaciba!
December 02, 2012 - 15:23
Baker Chevrolet Inc on 5TH Ave E - Gary, Indiana
Hello again,
I am still hoping someone can remember and provide some history/info on this old GM dealership. Thanks
December 02, 2012 - 01:21
@John
So far as safety goes in Gary I've been visiting two to three times yearly since 2008 and have never had an issue. Most of the time if anyone talks to you they'll tell you the history of the building you're looking at, or the dangers. Most of the time they seem to think we are surveyors looking to tear the buildings down. Once we met up with a transient in an apartment complex, he was quite nice and shared photos of himself and his family back when life was better for him.
November 30, 2012 - 03:37
-
Wayne, you worked at the Post Office at the same time as mine and Don's dad. He was groundskeeper. He loved working outside. He always had a spot out behind the building where he grew tomatoes. His name was Alton Bradford.
November 29, 2012 - 18:14
@ John-Gary Safety
John, just google NWI Times online newspaper, then click "NEWS", then click, "LAKE COUNTY". Read the "News, Lake County" for about a week(or less may be all that is needed), and make up your own mind.
Thousands of people drive through that city every day with no incidents. To be honest with you, i wouldn't try to drive by my childhood home on the west side. I will drive to Flamingo Pizza on Shelby St. in Miller to get fantastic pizza tho! I did work at the Main Post Office downtown from 1969-1974, then the Martin Luther King Building from 1974-2008 with never a problem. It's your call!
November 29, 2012 - 16:08
-
John
Take a Google earth ride through Gary and then make up your mind. Start with downtown Broadway and work south to Glen Park and then go to the east side of down town.
November 28, 2012 - 02:37
Safety
John, I can't help you with the safety issue. I haven't been in Gary in 24 years.
November 19, 2012 - 21:25
-
question for you guys, as far as safety goes how is Gary indiana? I hear its a dangerous place
November 19, 2012 - 19:17
Glen Park
I lived on 50th and Carolina until 1983 and went to Pittman Square School. Now my old house and the school have been torn down, but i still remember all the fun i had growing up. Sure there were some scary things going on but I always remeber the ggod times before the bad.
November 18, 2012 - 15:06
-
Jay W.
Who was your grandfather? Would that have been Ed Linton? I was a Glen Park Optimist member for 21 years.
Bob Combs
November 17, 2012 - 18:36
Beauty Spot Restaurant
Cora,
In a previous blog I mentioned the Beauty Spot. My Grandfathers Optimist Club held their banquets there. Good food, carved meats and huge salad bar. We loved the place. Palm Grove, San Remos, Obies and all the smorgasboards back then.
Jay
November 15, 2012 - 03:43
-
The Glen theater was across the street from Marko's. They were showing XXX movies for a while. I think sopme of them were parking behind Markos.