Gary, Indiana, ghost town
No Future City?
Another 2006 exploration. to celebrate the 100th anniversary of the city of Gary, Indiana. The city was artificially founded by the United States Steel Corporation in 1906, on the shore of Lake Michigan. Just to to meet the region's needs for the flourishing steel industry. The city reached up to 200,000 inhabitants.
The White flee from Gary (white flight), unemployment and insecurity set up. The city gets more and more empty, encounters major economic problems, and reaches the highest rate of crime of USA. Today, the beautiful huge buildings are demolished one by one, leaving behind large empty spaces.
More info about Gary? Just check the Wikipedia article.
Note: this page shows only some older, abandoned buildings downtown Gary. It does not show the effort done by the city to re-launch Gary in its 2nd century.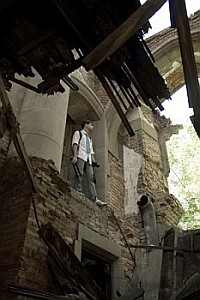 Seth Thomas
aka
dev null
I had the chance to do this exploration guided by Seth Thomas (aka dev null) in August 2006.
He was loving Urban Exploring in general, but Gary was for him more than just another exploration.
Since then, Seth passed away way too early, at the age of 24.
May this page be dedicated to him.
Wherever you are Seth, we are all sure you keep EXPLORING.
1
1-100 of 2103 Comments
December 05, 2013 - 18:42
Toyland
Wow, what memories of Toyland in the Village Shopping Center. As I recall it was next to the Tittles Grocery store right before you got to Montgomery Wards. The smell in that area was incredible because it was also the same location for the Chuck Wheeler hot dog stand right outside Toyland. Toyland was truly a great place to go to purchase plastic models and of course all of the supplies for my chemistry set. And if they didn't have what we wanted we went across the street to Riss Sales. If only those days could return. Great memories!!
December 04, 2013 - 15:54
-
Wow, all of you guys bringing up the Village Shopping Center sure does bring back fond memories of my grandfather, L. I Combs (an early settler of Gary, 1910) who built the Center as he called it in 1955. It was an immediate success as being the only center of its kind ever built. He, along with my father, Allen E. Combs and uncle Leslie I Combs, jr were a bunch of proud people when it opened to a full parking lot. Not many of the original stores remain, but the last time I was there, all stores were occupied, some after changing hands many times. Do you remember Santa coming in the helicopter, quite a thing back then and the hot dog guy, best hot dogs ever.
December 04, 2013 - 02:04
Christmas/Gary
Anyone remember the HUGE Christmas tree at Inland Steel?
December 03, 2013 - 15:49
To Rick
The store across the street from the Village was Riss Sales. Up until a few years ago i still had a handful of H.O. scale model trains i bought from Riss, Monkey Wards and Toyland too. I sold everything to a co-worker. I still have the original box from my first H.O. trainset bought from Toytown in 1962. Only a flatcar and a tank car survive. Speaking of old things, i have my brothers' BLL All Star hat from 1961 and a Brunswick CClub hat from 1960. I also have many American Flyer trains from 1946 to 1960, some Lionel stuff from the middle 50's.
The Big Toy Box at Sears i do not remember. What i do remember are the train layouts in the basement of Goldblatts at Xmas. They were on the Massachusetts side of Goldblatts. There was a tunnel under the alley that connected both sides.
Rick, since I'm a big Ebayer, maybe IF i remember, I'll check and see if there are any Best Of The West figures listed there.
December 02, 2013 - 02:11
Christmas in Gary
Wayne, Happy Holidays to you and yours. I remember the "Big Toy Box at Sears," The Village but not Toy Land and shopping downtown. If memory serves me, wasn't there a Christmas Parade downtown? I remember that across the street (Grant) from the Village, there was a toy store called ROSS. In the window they had five of the Best of the West action figures on display for a very long time. One day in the late 70s I bought them from the store. They didn't know what to charge me for them because they had been up there so long that they forgot they were there and they didn't sell them anymore. I got Johnny West, Jane West, Janie West, Geronimo, and two horses for $15.00. I still have them.
November 29, 2013 - 06:12
Holidays
Hope this message finds all in good health and everyone enjoyed Thanksgiving.
Now that the Christmas Season moves in on us, does anyone remember the Christmas Countdown in the Post Tribune? (50's-60's) Correct me if i'm wrong but it seems to me there was an accompanying picture to color and you could send it in to win something.
The U.S. Steel carolers that went from school to school, boy were they colorful!
The window shopping downtown on Broadway.
Toytown! (only 1 word needed)
Even Bramm's in Glen Park.
ToyLAND in the Village Shopping Center.
Sorry kids, my mind is still stuck on those Lionel and American Flyer trains. LOL (at 62 I still play with them to this day!).
November 24, 2013 - 19:11
TO ALL B
November 10, 2013 - 14:57
Shopping center
November 10, 2013 - 13:55
SHOPPING CENTER IN BRUNSWICK
Does anyone remember the name of the shopping center in Brunswick, on 5th and Clark, I'm embarrassed because my mother worked at the Jewel Food store there, but I'm having one of those brain farts that comes with age.
November 10, 2013 - 13:43
Rick in Tampa
Vargas rings a name with me, Andy Vargas sounds familiar, if I remember correctly, and I may be wrong after all these years, Andy was the pitcher and Home Run hitter on the same Cloverleaf Dairy team I played on at Brunswick Little League. If I am correct please respond, I have a funny story about Andy, and one of our games.
-
Mike B,
I sponsored a team at Junedale in the 60'S "Robert Combs Remodeling" Did you ever play against them?
-
Mike b.
Thanks for the info. I sponsored a team at Junedale in the 60's. "Combs Remodeling"
-
Jeffries Firestone(yellow hats) in1964. We won Indiana State championship at Junedale and lost to Oklahoma in the regionals at Indianapolis. Gary was loaded with good players back then.
-
Mike b.
What year and what team did you play on at LL at East Glenn Park?
Gary
Jerry G. I also went to St. Marks and Lew Wallace. I also used to go to Tommie's and play the pinball machine for 10 cents. I got my gas at the Clark station on 50th and Broadway. I went to the Ridge theater because I was afraid to go downtown. My father was mugged at the bus depot on 5th and Madison. Good to hear from you. Keep the memories coming. I played little league at East Glen Park.
September 23, 2013 - 04:07
memories.
I grew up in Glen Park. Went to St.mark School then Lew Wallace. Wallace from 1960 to 1963. I hated school all my life. I managed to get my GED and two years of college much later .Glen Park was a beautiful neighbor hood . We walked to Gilroy stadium for 4TH of July fire works . Often settled on the grass at the golf course with hundreds of other people and enjoyed the air display's. I remember the Bathhouse at the beach , what a neat building .And Palace theater and State theater. At the Palace all I wanted to do was look up at the ceiling. It was made to look like the night sky with twinkling light resembling stars. Then there was the Tolliston dairy . One could get a tub of malt for one buck. That was about a quart ,no less. Gasoline was anywhere from 18 cents to 29 cents a gallon. Usually 3 or 4 bucks would fill the tank in dad's car. A 1956 red and white Chevy bel-aire hard top That was our family car for a long time. I worked part time a Deep Rock gas station on 41 ST. and broadway and I remember diesel fuel was around 6 cents a gallon.My friends and I hung out at Tommies confectionary at 39Th and Broadway . What a great place. In those days we had respect for Tommy and his wife. They were like our Ma and dad away from home . You got smart you were told to leave . We never had any problems . In those days the other race never came past 25th.. and Broadway .Not saying that was right but that's how it was. They even always sat at the back of a gary bus. I never thought that was right either. In Glen park everyone kept things nice,. The economy was good. The Mills thrived. I worked there for a while and my dad for 33 years.Then things started to change slowly . For the worst. People that moved in some of the homes on 37Th and Monroe started to park on their lawns. Pretty soon lawns were transformed to mud. Houses we not being kept up and so it was like a bad desease that kept spreading. It was about 2011 I drove down 39Th Ave. then down Broadway to ridge road then to I65 . It was very sad. It was like driving through the worst area in Detroit Mi. Being a truck driver I have seen some very bad area's all over the country .What a shame .That's all I can say. At one time I use to fly planes and once I landed at Gary Airport. What a nice airport it is,but it was like a ghost town because people are afraid to go there. Well that's it. I often think about those good ole times and surely miss them.
September 18, 2013 - 04:55
-
Greg, those days are gone for ever and there is little to nothing left of the great city. I used to dream that one day the city would come back, but every day there is less and less left of Gary. Did you know that the American Bald Eagle has actually returned to Downtown? And as far as Joe Jackson goes, I personally don't care for him, he looks demonic if you ask me.
September 13, 2013 - 10:46
"Gary... ...a great place.... ...to be away from"
Those were the words out of Joe Jackson's mouth when I met hiim here in Munich (at a book signing of the story of his family's fame). I had just told him I was from Gary, and after a moment of disbelief (from running into someone from Gary all the way over here in Germany) that is what he said to me and the crowd. Just wanted to share that anecdote!
I'm from Glen Park and went to Pittman Square from '67 until '72. My Father was a teacher at Lew Wallace during that same time, so maybe someone will recognize the name.
I visited Gary a few years ago and was SHOCKED at the neighborhoods that I grew up in. They were mostly derelict. Sad, sad, sad. The photos on these pages really drive home just how bad off Gary has become.
What are the reasons? Is it only the closure of the steel mills, or can it be the long history of racism within Gary? There is certainly no denying that this could have been a major factor in its decline. No matter what, it's a shame that our once great city is simply the butt of jokes by Hoosiers statewide and even worldwide. Can this change? I don't know. I see Detroit, which seems even worse off than Gary, and still has the Auto Industry, and yet they are unable to reverse the tide of dereliction.
I certainly hope that Gary can get back up on it's feet. But it's going to take more than just the elder generation to make that happen. Our youth will have to take the reigns with a pride and passion which may not exist at the moment.
Anyhow, much love to all of you here. We remember a great city, which was very diverse in it's ethnicity and who's residents were proud - working hard and playing hard! Those memories cannot be erased by what I see in the photographs on these pages.
Best regards,
Greg
September 05, 2013 - 05:01
$1 Houses
Dan, this isn't something new, back in the 70's they tried selling houses for $1.00 and it didn't pay off then and it won't pay off now. If they want to clean the city up, they need to drop off huge dumpsters at the end of each street for about three days and let people clean out their properties for free.
" . . . A DOLLAR TO A DONUT!"
For those who have missed the recent news about Gary, here it is, straight from the donkey's (as in Democrat's) mouth, as it were:
We also have a lightly used bridge, in New York City, that you folks might be interested in purchasing . . . !?!
Johhnies Gyros
Jon in Minnesota-
I believe it was Johnnies Gyros for a while before it became a parking lot. As a kid I remember it was Box-O-Chicken or something close to that. Rocket Car Wash was on the east corner of US 12 and Lake Street and Box-O-Chicken/Johnnies was on the west corner.
@ Melinda
May GOD bless you, Ms. Harris & others in your efforts in Gary. Glad to hear of something positive going on there.
New to Gary, Indiana
This may seem wired to some of you, but I have been living in Chicago, Illinois all of my life. What i knew of Gary , indiana while growing up was " Michael Jackson .....going back to Indiana. Recently, I have had the honor of working in Ministry with Dr. Mildred C. Harris, who herself was an educator in the Gary School System for thirty-six years. Although she lives in Chicago , her heart has always been and still is with Gary and the people of Gary. Traveling back and forth from Chicago to Gary has been an wonderful experience, Gary has great potentials. Dr. Mildred C. Harris and God First Ministries Gary indiana within one year rehabbed two houses thereby providing affordable housing to the residents of Gary and the work continues.
i truly believe within my heart that God has great things in store for Gary!!!! I would like to extend an invitation to all of you who believe that Gary is on the way back stronger and better than ever. We gather together every second and third Friday of every month at ; God First Ministries, Gary located at 1119 Grant Street from 7pm to 900 pm. Dr. Harris ministered on the third Friday,although she is present and takes part in the second Friday service. Come a out and hear what God is saying about Gary !!!!!!
WOW! What a surprise!
WOW! TJ....... my father helped pave US 190 from Hammond, LA to Baton Rouge with the public works projects during THE Depression. I also have family in both Hammond, LA and Baton Rouge, (mainly Denham Springs). and everywhere in between. One of my cousins used to own a bar in Hammond (The Den later changed to Augustines). Streetview still shows the building on Cate Street. My Aunt Mary also had a sandwich shop in the building.
Tonya.... welcome! I talked to your dad about 2 weeks ago. Been trying to get him to use the computer for some communication, like sending photos and other info. What brought you to this website? Tell your dad i'm still miffed at him for trashing his American Flyer trainset in the late 50's.
@ Wayne H - Louisiana
Wayne,
Too, too weird. I also have family in Louisiana. Not Albany, but not too far away in Hammond, LA & Baton Rouge.
This is neat history
I am the daughter of the Stephen Hudak, my Grandfather was the Stephen Hudak who passed in the 1960's. I found these convos to be very interesting as I just got back in May from visiting my Aunt Marilyn in Lutz,FL.
Thanks TJ
TJ, it's really interesting to read other's memories of Gary, and then discover, in some instances, how lives have crossed. My father (Mike Hudak) worked for American Bridge from 1946 to 1978. My uncle Steve Hudak also worked there until 1964 when he unexpectedly passed away. My Uncle Joe Hudak lived in the apartments at 5th and Chase in the middle 60's right across from Budd Co. (he worked there), Waverly Road is close by.
I grew up at 4414 W 11th Avenue, about 2 blocks east of Clark Road, from there we moved to Merrillville in 1963. Where we lived on W 11th was considered Tolleston Post Office wise, but Gary Heights to us "locals" and we were more associated with Brunswick. Do you remember the Tastee Freeze on 11th and Chase? You mentioned THIS IS IT..... it's still in business at 25th and Burr and wasn't too far from where i grew up, mom always bought our blue jeans from there. The only way i will visit my childhood home is via Google Streetview. Same as you, i and my son ride the South Shore (NICTD) to Chicago once in a while to just "get away".
As for the "Patch", it was an early Gary area where the common laborers from US Steel and such lived. About Broadway on the east, Grant St on the west, the Wabash/Michigan Central RRd's (9th ave area) on the north and 25th Ave on the south. It encompassed the Gary Roosevelt and Froebel High School districts.
Oh, and when i mentioned Louisiana was a whole different world, i was speaking of when i was a kid in Gary in the 50's and early 60's. The little town where my mother grew up (Albany, LA) has really changed now. Population has went from a steady 600 in the 50's, 60's and 70's to a whopping 800-900 now and heavily commercialized! LOL
Wayne/memories
Yes, Wayne H, my parents were from Tennessee. My Dad's 2 brothers & several of his cousins came north looking for job opportunities. One of my uncles started out in South Bend/Mishawaka working for Studebaker, then ended up at Inland Steel. My Dad started out & stayed at Inland until he retired on disability (after 28 years). Another Uncle worked for American Bridge. Only one of Dad's cousins stayed, and he retired from Inland. The first 2 places we lived were on Waverly Drive in Tolleston. I think these apartments are now called Westbrook Gardens??? Along about 1958 or '59, we removed to Glen Park. That is where the family was living when I finished school & left home. When we lived there,, it was called Indiana St., I think it goes by ML King Dr. now. We were only one street removed from Hobart city limits. I attended 1st grade at Horace Mann because John H. Vohr was not complete, elementary grades went in the morning & high school in the afternoons. Then to Vohr upon it's opening. After moving to GP I attended James Whitcomb Riley Elementary. Jr. High was supposed to be started at Bailey, but again, it was not finished, so started Jr. High at Lew Wallace. Jr. High in the mornings, Sr. High in afternoons. Eventually got into the building at Bailey. Then on to HS at Lew Wallace. Interesting that you are from Portage. I still have one sister left "up there" and she lives in Portage. I also have 3 cousins in the Crown Point area. My other sister & I just were there visiting about a month ago. We eat & shop some in Hobart & Portage, but when we want to "do" anything, we get on the South Shore (NW Indiana Transit or whatever it is called now!!) and head for the Loop & museums, etc. This last time we took one of those double decker bus tours of the Loop area & Navy Pier. We have re-visited the GP neighborhood (it is sad), but have been advised not to try going to the apartments in Tolleston, so have never been back there. This time we braved trying to revisit the Black Oak area. I am the only one of us who remembers that area. And all I remember of it is that there were what seemed like lots of other people with southern accents congregated there & I remember Dad going some plaace called "This Is IT!" I am not familiar with the term/area the "Patch." Must have been before my time or just someplace we never made it to. Thanks for responding & YES!!, I'll bet Louisiana is a different & whole other world from Portage! Most likely a whole other world from us here in my little corner of SW Tennessee also!
memories @TJ
TJ, I assume you meant your parents came from the south. Aside from that the same was for my parents. They were both born in Louisiana. Dad ended up in Flint Michigan in the middle/late '30's and when the war ended he moved to Gary (about 13th & Delaware, an area known as the "Patch") in late '45 and married mom in early '46, then moved to 7th and Jefferson. I and my sister & brother were born in Gary. I spent quite a bit of time in southeastern Louisiana as a child and down south was a whole other world!
P.J./Lew Wallace/Glen Park
I have not read OR posted in awhile either. @P.J....I am Lew Wallace-class of 1968. Parents came south to what they perceived to be the "promised land" in the middle '50's. They landed in Tolleston. Later removed to Glen Park. Upon graduation I came back "home." As a mother of 3 & grandmother to 5, I feel I made the right decision as to where to live & raise family. I have never looked back Saw the pix you posted...So Sad. Even though I did not like being there, I CAN REMEMBER a time when it was a thriving, prosperous, safe, interesting, diverse and somewhat fun place to live & grow up. (my formative years having been spent in the south, I was simply a fish out of water & never assimilated, I guess). I still have a very few family members still there, so have reason to visit from time to time. YOUR PIX reminded me of the last class reunion I went to...maybe our 35th (was a multi-class affair in Merrillville several + years ago). The folks in charge of entertainment projected (?) images of Gary onto the wall behind the "oldies" band as they performed. These were images of Gary as it was THEN, 2002 or 2003?...not as it was when we were in school. Cannot imagine why they showed them! Was NOT good PR for Gary for anyone who had been away for any length of time. The images shown were of falling down, burned out, abandoned looking buildings, lots & streets. Looked like a war zone. It was so weird, sad & a very real reminder of why I am glad to be in Dixie. BUT, something that is really weird is that some 40 years later, a former 1968 classmate (whom I did not know in school, our classes were so huge) found me...right here in the very small town that I live in. He has been around these parts for some 25 years+! My children have only seen the Gary as it is now & cannot imagine being free & safe enough to travel on foot, bicycle or city bus to the business section of Glen Park or the downtown area & safely enjoying a day of window shopping, eating, going to the movies, the beauty school (hair cut or styled for .50 cents!), etc. Could entertain myself for a whole Saturday... for $5! @ all you other good folks, I DO enjoy reading YOUR memories of another place, another time. Ya'll Be Blessed!!
Chips and a movie
Chuck Wheeler
I am not familiar with the background, I just remember the one on 5th just past the original Lure.
When I got home last night there was a package at my door. It was from my cousin who lives in Crown Point.
3 bags of PEERLESS CHIPS!! I am in potato chip heaven right now.
He does this every so often and it couldn't have come at a better time. Since I have been posting it has brought back many memories of the foods I grew up with and can no longer get.
I go to Bayonet Point, a small town also close to Tampa. I looked on the map to see how close it was to Lutz. Not far at all.
In fact, I go to Fresh Market almost every time I am down there and it is very close to Lutz. Best meat around and never disappoints.
I am sure your cousin is familiar with the place.
BTW, your reminiscing was interesting. I would like to see that movie.
-
Hi P.J. Missed your informational posts. You talk about seeing the streetcar tracks being torn up. I remember as a kid (born on the east side in 1930) riding these rails. A quarter would get you an all day ride with transfers to any of the other lines that went from 5th and Broadway "all the way" to Glen Park. The driver went so fast past blocks and blocks of empty lots that the car shook violently from side to side. When we got to the "end" of the line we all got out and reversed the trolley and the driver would take the crank off the pedestal and put it on the other end. What fun.
P.J> When I got married we move to 4680 Harrison St. Maybe you remember Kathy or Barbara Combs?
To PJ and Kenny
@PJ..... thanks for the interesting info on the streetcar tracks on 5th Ave. Did you get any photos of them being removed? I am a big time rail historian and with your mention of streetcar tracks brought back my memories of them. In the middle 60's i remember seeing them bleed through the pavement in many locations. There were some in the Tolleston area on 11th Avenue, 61st and Taft/Cleveland in M'ville, Cleveland Street and 47th, and 45th. The line that ran along Cleveland/Taft Street to Crown Point was abandoned in 1931.
If you ever see a movie called "Appointment With Danger", it was filmed in Gary, East Chicago, and Hammond. Alan Ladd, Harry Morgan (of MASH and Dragnet fame) among others appeared. There is one quick scene of streetcars, the scene looks south toward Gary City Hall on Broadway. I was confused as to why streetcars appeared when the movie was dated 1951. Then Lo and Behold i found out the movie was shot in 1948, the year the streetcars shut down, then released in 1951. To me, it's a very interesting movie because Alan Ladd was a Postal Inspector chasing after US Mail robbers and murderers. I worked in the old downtown USPS facility from 1969 to 1974 (MLK facility 1974-2008) and even recognized scenes filmed in the Old PO! (Prominently featured on this web site which brought me here). Even Goldblatt's appeared. Another reason why the film interests me is the many railroad scenes, with the robbers planning a heist of the CHI-LOG-CIN mail train. That RPO (Railway Post Office) actually existed and was still operating when i hired on in 1969. That rail line ran out of Chicago thru the area of River Oaks, then through Munster, Schererville, Crown Point and Hebron..... to Cincinnati. The movie writers sure did their homework! Personally, i remember local banks in this area would send full mailbags of CASH money to NY banks via the RPO. I remember armed guards on both sides of the RPO door with guns drawn and two that would jump down on the platform while we loaded (5th and Chase Pennsy station). A lot of good that did us.... we waited on the station platform with NO guards until the train arrived! Am i getting boring? LOL
P.S. PJ did you know a Lisa Mott at Lew Wallace? She might have been in the class of '73-'74. She had an older brother named Gayle and they lived around 49th and Georgia.
@Kenny..... Mike Berta retired from Portage as the Superintendent last year. He has been hired out temporarily as the Valparaiso School Super, going into his 2nd year there this fall.
FLAMINGO:
I used to pick up pizza's at Flamingo in Miller until about 5 years ago, some of the best pizza around. They used to deliver where i live in Portage but the delivery guy was almost killed one day delivering to an abandoned house in Miller, so they stopped ALL deliveries. The delivery guy was a Bravo, from Glen Park. I played baseball at Junedale Senior League with his brother Jessie.
Chuck Wheeler.... I think the Chuck Wheeler family still owns KFC's in the area and they have an office/training center in a former home on Center Street in Portage, near US 20. Didn't Chuck Wheeler start out with a hotdog cart in downtown Gary and then had one at the Village Shopping Center? Oh, and the Lure in Portage....... the LAST one of two, closed it's doors on Dec 31, 2012. The LURE b.1957 d.2012 R.I.P. I miss their Hot Ham & Cheese.
-
I'm going to try to post a couple of photos here; not sure it will work, so bear with me. I took these pix about a week ago, from my car as I was stopped in traffic on 5th Avenue. These buildings, what's left of them, are several blocks west of Broadway.
It's been a while....
Hi, everyone.
I used to post here frequently, but became busy with other things and haven't visited here in quite some time. Looks as though I have a LOT of catching up to do. Lots of new posters here and great memories shared.
I grew up in East Glen Park; Wallace '72. I have so many happy memories of growing up in Gary when it was a beautiful, thriving, safe city. Presently, I work in Gary (on 4th Ave, not far from the airport), and am saddened every day as I drive past burned, dilapidated, boarded up buildings downtown. It's a real heartbreaker.
An interesting note. This summer they are reconstructing 5th Avenue from just west of I-65 all the way west to Bridge Street. Tearing up the center lane was a monumental task, as they had to remove a few miles' worth of streetcar rails. All these years, 4 rails have been hidden beneath the pavement on 5th Avenue. It was interesting to watch the progress each day. I remember as a kid seeing some rails that were visible through the pavement farther south, at Broadway and 43rd.
Holy Rosary
Yes, I was in the territory for Holy Rosary but my family had a long history with Holy Trinity and I am sure that was the reason I went there.
My grandparents lived on Jackson St and had a 2 flat where my mom and dad lived when I was born. After moving to G.H. they never changed churches.
I went to grade school and high school with the Mandula's and Mike Berta. I lost contact with both family's after high school but a buddy of mine still stays in touch with Mike Berta.
I but at some time in my life that your cousin Marilyn and my paths crossed at one time or another since she graduated in '67.
As I am sure you know he is the superintendent of Portage schools.
You talk about Bon Aire, to me that was THE place to live in our area. I thought it was a beautiful community.
The last time I was in the area I was in Hammond and took 5th ave all the way down to County Line Road. I was headed to the Flamingo in Miller for pizza.
That was a real eye opener.
Back to the Heights
Kenny, i'll be 62 in October, the 1st to be exact. We moved to the Meadowdale subdivision in August of 1963. I graduated in 1969 from Merrillville HS. My sister Sue graduated in 1965 and brother Tim (Hudak) graduated in 1966. Kathy Rattay, whom my brother married, graduated from Andrean in 1968. I knew the Mandula kids, (Margie '65 or '66, Mike '69, and Bobby '72), they went to Andrean. Mike Berta '66 or '67, lived a couple houses from the Mandula's, rode our bus and attended Andrean.
Back to The Heights. Kenny, you said you went to grade school at Holy Trinity. Living on Wright Street, were you in the territory for Holy Rosary? If you had attended Holy Rosary grade school you probably would have known my cousin Marilyn Hudak. She lived on 1160 Durbin, eventually moving to Bon Aire subdivision in M'ville and graduating from MHS in '67. She now lives in Lutz Florida, north of Tampa.
Back to the Heights
Teddy, Judy and Kenny were cousins of Terry. I knew them but I don't remember when they moved from Baker St.
My family moved to Turkey Creek in '64.
I remember the name Rattay but I cannot for the life of me put a face with the name.
I am not sure how old you are but I will be 64 in October. I was part of the class of '67 at Andrean
You mentioned Mr Stack and the beer. Bob was one of my dad's beer buddies at Jake's bar.
I make it a point to get back to the region at least once a year. A couple bags of Peerless are always part of my carry on going home.
Bronowski
@ Kenny
I went to kindergarten with a Teddy (Theo) Bronowski, never saw him again till we all moved to M'ville. His sister Judy was a year younger than me and then there was Kenny. Kenny tagged along with us when i was in High School, with me having a drivers license, i was his "ride". At that time the Bronowski's lived at 53rd and Johnson and I lived at 54th and Lincoln Ct. All the Bronowski kids went to Andrean. According to Kenny, Mr Bronowski had some kind of job that took them to Cocoa Beach Florida for awhile. I think he was working for NASA.
Did you know the Rattay's from Holy Trinity? They had moved to M'ville where my brother met Kathy. They were married at Holy Trinity in 1969. I think to other 2 siblings were named Suzy and Bob.
Ah, the Stacks...... Ann was really nice to us kids. She lived just around the corner from us on Baker Street. Mr Stack used to have fits when he found us kids raiding his garbage cans for beer cans to use for cricket. He didn't want the neighborhood to know how much beer he drank! LOL
And last but not least...... does anyone remember a "Brenda" that lived about 13th and Williams? I can't remember her last name but her father drove a tractor/trailer for ReaLemon. I wanted to run away with her and get married...... !
Burr Street
@Rick
Do you ever read the NWI Times? It's just so sad what has happened to a once great place. Two shootings/killings along Burr St this past week, one at 10th and Burr, the other at 15th and Burr, with about 5 or 6 killings overall in the past week.
On another note we lost another of our old Brunswick LL friends, Charlie Boteler (age 60). Charlie lived next door to my cousins Steve and Marilyn Hudak at about 1150 Durbin St. He was currently residing in Valparaiso, Indiana.
@Pam (Fezcko) Peerless Chips are still alive and well. They are goooo......oood! They even have saltless for us high blood pressure guys. And what could be better than the Beach and Jack Spratt Ice Cream?
@Ardishir, yes "Wally" (as i always knew him) was quite well laid back, always a cool kid to hang around with. I couldn't have had a better friend to grow up with. P.S.: I played at Junedale 1964-67.
Correction: In my previous post i mentioned last names of people i knew who lived near Washington Elementary. I did not proof read!!! ah! It was VESPO not Vespocv.
Edison and Gary Heights
Even though I lived on Wright St my family belonged to the Holy Trinity parish on 13t and Madison. I went To Washington for Kindergarten and Holy Trinity for grade school and then on to Andrean. The only other person in our neighborhood to go to Holy Trinity with me was Terry Bronowski, he lived at 13th and Baker. You mentioned many names but the only ones that stands out are the Reed family and Sheely's . I think his name was Bob.
By any chance do you know the Erdelac family?
Many a penny was spent in the corner store on Sputniks, jaw breakers, ect. Your neighbor, Ann Stack worked at that store.
My brother and I helped clean Jake's bar every Sunday wiping down everything, restocking coolers, cleaning mirrors, mopping floors and I got a $2 bill every week for my efforts. It did buy a lot of penny candy and 15 cent Lure hamburgers.
Rick, I hardly ever went past Clark Road, but as I said the name Vargas does stand out in mind. Maybe it was a relative of yours. I keep thinking Willard St between 10th and 11th.
Edison High School
Kenny, my brother Rigo and my sister Rosemary went to Edison. He graduated in 68 and my sister in 1969. We used to live on the corner of 11th and Burr.
Gary Heights
Good to see some folks comment here who lived in the Gary Heights area...... i've felt so alone! LOL I'm a little behind on comments..... ugly health issues! Golden Years????? yea, right!
I recently received my 2013 M'ville High School Alumni Directory and from memory, i located about 33 students that attended MHS who had previously lived in Gary Heights the same time i did. Add on others i knew from Brunswick LL who lived in Brunswick and moved to M'ville and the total is well over 40. My current next door neighbor graduated from Edison in 1963 and grew up on 10th and Mount!
Kenny, you stated the "boundaries" of Gary Heights spot on! Ah, that mom n pop store on 11th.... the 1st place i ever bought a "Sputnik" gumball! ('57 or '58). Jakes Bar... i forgot all about that place till you mentioned it. If i remember it was a very small bar. Did you know Connie or Tom Reed? They lived on the north side of 11th between Wright and Baker, closer to Wright St i believe. South of 11th Ave near Wright, Lane etc. i knew Henik, Gerbick, Zak, Foddrill, Sheely, Maddock, Vespocv etc.
Rick, as you questioned before, my cousin Marilyn who lived at 1160 Durbin and now resides in Lutz, FL was born in 1949. As far as i know she attended Holy Rosary School and at least one year at Bishop Knoll. She graduated from M'ville HS in 1967. She spent her entire career in nursing, she is now retired.
Normandy Cafe
Sorry Rick, I just don't remember it unless it was the old Sunny Spot Cafe at the corner of 15th and Clark.
I remember riding my bike to the Sunny Spot to get to-go orders for something they made that I really liked
Pam, I'm sure more names ring a bell since you went to Edison but like you, it's fun reading the comments.
For some reason the last name of Vargas sounds very familiar.
To the people who are posting from the Horace Mann are, Una, the owner of the PANTRY, was my next door neighbor
-
Thanks Kenny for the heads up on this web site. So fun to read all the comments. It was a great place to grow up in. For me, going to the beach was always fun. Then we would stop at Jack Sprats for an ice cream cone. Most of the time, the top scoop would land on Lake St. before I could get to the car. Then, of course the Chapel was the place to be in high school on the weekend. Still miss those Peerless potato chips too!!!!
Normandy Cafe
I know the area well. My uncle owned the old Normandy Café on Clark Road if you know where that is. He bought the property and the café after it had burned down, so he never ran the place. Do you know anyone who ever ate there?
Location
I could be a little off but it started at Whitcomb and ended at Clark Road with it starting at the tracks and ending at 15th ave. Its been many years since I left the neighborhood but it was a great place to grow up.
Gary Heights
Kenny, were exactly was Gary Heights? I spent the first 12 years of my life on 11th in Burr in Brunswick, and the next seven in Glen Park before I joined the Army.
Gary Heights
I just discovered this site and Wayne from Portage brought back a flood of memories.
I remember the root beer stand being on 15 and Whitcomb and it was B & K Root Beer. Could be wrong
The mom and pop store on 11th was owned by the Glumac family. My dad worked part time at Jake's bar across the street.
Just hopping a bus and going to the Palace or transfering at 5th and Broadway and going to Miller Beach or to Wells St pool, what great memories of a simpler time.
I was friends with Omar and I see where Bob Dulla's name was mentioned. What a great guy.
I grew up on Wright St just North of 11TH Ave. To this day I have a hard time refering to KFC and not calling it Chuck Wheelers.
Bakeries and Walt Kankowski
Had to throw out a comment or two on a couple of your great topics. Grew up in Glen Park (St. marks). I never knew about the great bakery "issue". My dad was serb but we always bought at GP bakery. I guess cuz it was close and also awesome! We certainly knew Mike Mandich and family (my sis played in youth tambura w Marcia @ St Sava. ). We were raised Catholic (Mom). Ate at Markos every Friday night fish when little. (He was Croat). How cool to eat in a bar at 8 yrs. old! My Dads store was next door on corner. I asked pop one day what's with this big Serb/Croat deal. He basically said he doesn't he doesn't play that deal cuz he's Serb and he has many more Croat customers than Serbs so he's fine with it, whatever.
And yes I was classmates with Walt K when he came to Boone Grove. (I beat him there by a few years). I liked him immediately. I started varsity baseball there as a freshman and fielding a full field of serious ball players was a challenge at Boone at that time (43 kids in whole class). Walt showed up-they put him on third base and I thought OMG! A real ball player. As a first baseman your gonna love a guy on third who can actually get the ball to you in the air. I'd been digging them outa the dirt for two years. But I was Junedale so I knew what was supposed to take place on a ball diamond and so did Walt, even if he was from Brunswick! (Haha just a joke). He was first rate. He could be the hippest cat in the schoolhouse but even the teachers/admin had to like him because his personality and temperament was so laid back and mellow. A fine, fine young man. I loved when he would tell me about the cool clubs in Gary he'd "visited". I followed up on a few o those, mostly mid town and west side and he was right! They had an open door policy for serving adult beverages, even if you we're only 16. No trouble either, even though I didn't exactly blend in with the locals. (I did mention Boone Grove right?). Walt was as cool as the center seed of a cucumber and I really liked him.
Porter st memories
George, I'm having some health issues but all in all I'm ok. Our lives rotated around sports. We had the greatest outdoor BB goal at Samson's, we had Ortiz's for dunking. Porter street was the greatest rugby field ever and it served as a fabulous rubber ball baseball field. Do you remember the summer Biff spent in a cast and we played board games on his grandmother's porch? Actually Biff spent quite a bit of time in a cast. Gleason Park golf-you and Donald Beddome really outclassed the rest of us. You went on to stardom at MHS. In today's world you would have won a scholarship for your game. Cloverleaf Dairy may have been the greatest LL team ever. I can't remember a more powerful LL hitter than Andy Pazak. His HRs would often land in the outfield of the minor league field. I can't remember the pitching for that team,however. We really had a great time and place to grow up in. Great hearing from you.
What a memory
George, what a great post, what a memory. I guess it's easy to remember things that meant so much in your life. My memories of Gary didn't begin until 1962. I have to admit that I am envious of anyone who grow up in Gary before that time. I love that place, I don't know why, but I do.
MEMORIAL DAY (TRADITIONAL)
On this, the date on which we traditionally commemorated our war dead, prior to the Uniform Monday Holiday Act of 1968, which went into effect at the beginning of 1971, I want to thank George Dickinson of Las Vegas, formerly of Third and Porter, in Brunswick, for that wonderful and extensive recollection of our old way of life, in the old neighborhoods of Brunswick. As mentioned before, I grew up at 545 Hovey Street, a few blocks from Mr. Dickinson, who probably knew some of my older siblings, from the neighborhood itself, or from Edison, or Brunswick Little League, etc.
Brunswick
First how have you been Al b, yes I remember the 50 lap bicycle races around the block, every Memorial Day, we would even skip the Cubs game on TV to race our Schwinns. Brunswick Little League, I think I played on the greatest Cloverleaf Dairy team ever assembled Mr. home run Andy Pazak, Paul Ozug who later went on to coach basketball at SW Missouri St., the Dainton brothers who went on to Notre Dame football fame. their dad, and our coach, Mr. Dainton I wish I could remember everyone's name it was a great team. I remember getting a free Chocolate Malt at the Dairy Queen for every home run. George Stokes, what can I say about this great innovator, my fondest memories of Mr. Stokes are after my father passed away, Mr. Stokes adopted me and my brother and treated us like we were brothers of Charles, it really helped us get through a hard time.
Mr. Grillo, and Toy Town was a great help also, my mother worked next door at the Jewel store and Mr. Grillo would give us discounts. My fondest memory of Mr. Grillo is a classic, one day he had Ernie Banks at the store and invited us to come meet him, after shaking Ernie's hand I just started staring at my hand in awe, hell I had just shaken the hand of the great Ernie Banks--Ernie, always the joker looked at me, with that great smile on his, said "what ya doin son, looking to see if the chocolate wore off" that was the start of a still till today lifelong friendship, with what I feel is the greatest shortstop to ever play the game. The bowling alley brings back memories also, one Sunday my brother and me ditched Sunday School, at Holy Rosary, to play pinball at the bowling alley, our mother found out and made us kneel on rice and read the Bible for one hour==oh the days of corporal punishment.
The Dairy Queen, Lure, Smiley's Taco House, American Legion, where I drank my first beer with my dad, the pharmacy across from Edison, Ace, the Sinclair Station, Doc Fadul, First National Bank, who could forget 5th Avenue. I grew up at 381 Porter St., Ah Porter St. the Bradford's, Pedone's, Woodward's, Torres', Spinks', and a few others that slip my mind, we were quite the gang of hooligans. There was the Swiss couple who always had the most beautiful flowers every spring, and finest trimmed lawn in the neighborhood, Al Thirtle-and the infamous Jacoby's wall, where we learned the facts of life, our parents would not teach us, the 1st sex education classes ever, Jacoby's wall where every prank we pulled on the neighborhood was hatched, and who could forget the beautiful Julie K. Then there was Clark Pond, and woods, the home of many an ice hockey game, Tuttle's log where we all smoked our 1st cigarette and the sand path to Shoppers Fair.
Edison School where I made hundreds of friends, Mr. Swingley the Principal, Ms Perino everyone's 1st love. My mother was a hall monitor, my Aunt Mary was cafeteria manager, the crowded halls, I got involved in sports just to get away from those halls, basketball, track, cross country, and golf were my games. We left Brunswick and Edison H.S. in 1965, and like many Brunswickite, moved to Merrillville, sadly at first, but made many lifetime friends there Gregg Popovich, coach of the San Antonio Spurs, among them.
I am glad I found this site, I am on Facebook, send me a friend request, and I will keep posting here as time and memory allows, glad to read everyone else's posts as well those were the days my friend's.
Bummed
You guys are all getting me chocked up. I was born in Gary went to Kindergarden at Horse Mann and had a great time on 3rd and Garfield. My parents moved to Merrillville and I went to SS Peter & Paul and Andrean. But really it was a very cool city at one time, the Palace, the State, Gordans . It was the best of times.
George G
Just read about George's passing. I pulled out my 1966 yearbook & found what he wrote to me. We were in orchestra together. Good times & memories. I graduated from EHS in 1967, the last class to graduate from there. Was one of the 13-yr group(at EHS from K-12). We lived at 3rd & Hovey, and 3rd & Porter, then moved to Valparaiso August 1967.
Lakita's Grandmom's house
Lakita, I grew up on 11th and Burr Street. 5700 W11th Ave to be exact. Ivanhoe Elementary, Edison High then later Junior High School, and of course West Side High School are all part of the Burnswick neighborhood.
Made Me Smile
I fell upon this site many years ago and Im so glad to see soooooooo many comments about warm and great memories. I was not born in or grew up in Gary but my entire family is from there. I spent every summer of my life there and enjoyed it greatly. It was still in the bad condition thats its in now but I was always envious of the way my Mother spoke of old houses and neighborhoods where she did this and that. My Grandmother still lives there and we visit often. On behalf of my Mother Loretta Pickett and her siblings Josette Pickett Kim Pickett Glenn Pickett David Pickett and Sherrine Pickett of 11th and Hovey (1179 to be exact) and alumni of Westside and Rioosevelt High School Im sure they will be glad to know that so many others still hold the city near and dear to there hearts. Gary has a rich history and extreme charachter. I look at all the abandoned homes or delapitated buildings with sadness, yet an extreme craving for knowledge of what was once there and what happen. I still love the city even in its current state. I also know the violence of the city as well. For instance the Walton murders that happen right next door to my Grandma's ( Barbara Pickett-Davis) house before I was even a teenager. I hope that when others fine this page they see the good that people remember more than than bad. Gary is home, Respect it, the good the bad and the ugly.
Southaven
Whatever the name of this subdivision was, I seem to remember the streets being in somewhat alphabetical order. Seems we turned off of Rt. 6 on McCool (?), County Rd. 400 0r 450?. There was a "Wolfe Mansion" near by (supposedly haunted).
Has been a L-O-N-G time since going there, so remembering directions are sketchy. Apologies. Will be travelling to Portage end of the month to see only remaining family member left up there.
Wayne H
Wayne, what's your cousin's name. Tell her that I grew up on 11th and Burr Street before moving to Glen Park. What does she do for a living? Myself, I work on MacDill AFB. Depending on how old she is, she may have gone to school with me, or with one of my five siblings. In otherwords, if she was born anywhere between 1949 and 1962 and grew up in Brunswick, chances are she knew one of the six Vargas kids.
Rick
LOCATION, LOCATION, LOCATION!
T.J., during our South Haven years, we lived at 485 West Briarwood. (At one end of the street, the sign said Road; while, at the other end, one said Drive!) It was literally a stone's throw from South Haven Elementary School, where I spent the bulk of sixth grade, in Mr. Stark's class. It was, therefore, a very convenient location for playing basketball, baseball, football, tennis, etc., on the courts and fields located by the school. I am unaware of any such street as O'Sage; but, if they actually lived in South Haven, they did not live very far away from us-- because the entire subdivision was only one mile square!?!
P.S. - Shrine
So sorry to hear/read of neglect of Seven Dolor Shrine. I remember it from days when we visited family. Maybe there is hope.
WAYNE/DAN - Southhaven Identity Disorder
This happened to my sister who moved from Hobart to Southhaven in early 70's (Valpo mail, Wheeler phone, etc) They fumed each winter that NO ONE claimed them the winter months when it came time to plow snow. YOU MIGHT HAVE BEEN NEIGHBORS!...they lived at 611 O'Sage (they have since migrated south to Iuka Mississippi...extreme NE Mississsippi/NW Alabama)
SEVEN DOLORS SHRINE
Thanks, Wayne! I used to go to outdoor masses, on sunny Sunday mornings, during the summer months, from the late 1960s onward, at the Altar of St. Francis of Assisi. During the summer of 1971, when I was 14, I worked briefly on the Shrine's grounds crew, with one of my older brothers. I and two other adolescent workers were fired for allegedly stranding an old friar up an orchard tree!
@Dan-Seven Dolors Shrine
Dan, sadly the Seven Dolors Shrine is in disrepair.
Read it here....... www.nwitimes.com
Hope the above link works!
As for the South Haven Identity Disorder, it still exists. The ZipCode however was changed from 46383 to 46385 some years ago.
CIVIC IDENTITY DISORDER
When we moved from Brunswick to South Haven, in September 1967, we wound up with a Valparaiso mailing address, a Wheeler telephone exchange, and Portage Township schools! At Our Lady of Sorrows parish, however, which had been part of Seven Dolors Shrine, run by the Franciscans, we at least retained our membership in the Gary Diocese, which had been created, by Pope Pius XII, when I was 68 days old.
To Rick again
Rick, it just occurred to me you live in Tampa. A cousin of mine who grew up in Gary lived right down the street from you at 1160 Durbin. She now lives just north of you in Lutz, FL!
@Rick- Lake Station- Hobart
Rick, there was an area of unincorporated Hobart Township which carries a Lake Station mailing address that was annexed by Hobart some years ago (Knob Hill). The same is for the Hobart annexation of Ross Township which incorporates SouthLake(Westfield) Mall and the Route 30 Business corridor(north side) from Mississippi Street East to County Line Road. That area is served by the Ross Township School District (Merrillville) and still carries a Merrillville mailing address even though it has been Hobart for about 20 years.
=============================
Lake Station and the Michigan Central Railroad.
Interestingly, on May 1st, it will have been 148 years The Lincoln Funeral train traversed the Michigan Central route. It left Michigan City about 8:30am and passed through Lake Station about 9:30am local time heading to Chicago. It came from Indianapolis the previous day on the Monon Route stopping at Otis to refuel(unscheduled) and stop overnight at Michigan City for the viewing of Lincoln's body. I think of that from time to time, Lincoln's funeral train actually passed by less than 200 feet from my front door in Portage. The rail line is still used to this day!
. . . AND EAST GARY IS NOW (ONCE AGAIN) LAKE STATION, NOT HOBART!
FROM WIKIPEDIA:
***
"East Gary is the former name of the city of Lake Station, Indiana. The city was known as Lake Station from as far back as 1852 when it served as a depot on Michigan Central Railroad's Detroit to Chicago line. The name was officially changed to East Gary in 1908 in an attempt to lure executives from the nearby US Steel plant in Gary, Indiana into creating a suburban community.
"With another name change in 1977, to primarily disassociate itself from the urban decay and crime of Gary, the city reverted to its more historical designation of Lake Station. Prior to its current location in Crown Point, Indiana, the county seat was located on what is now the west end of Lake Station in a section called Liverpool."
***
Miller is Gary
Since before I was born, Miller was a section of neighborhood in Gary, just as Glen Park, Tolleston and Brunswick are. East Gary was annexed by Hobart in the 80s or 90s.
Gary ???
I always thought that Gary was a suburb of Miller. Who had the beach ? Garyites always drifted out to Miller for relaxation.
There's no place like home
Pete do you live there now? People think I'm ccrazy when I speak of Gary with fondness. I've been to Paris, Cairo, NY and many other places, but there is no where like Gary. I live in Tampa now, it's always bright and sunny here, and I can walk the streets at night, but this place has nothing over the Gary I once knew.
Great Memories
Class of1957 Horace Mann. My first kiss, love, girl friend, life long friends and my birth. I will be buried there.
Aetna?
The 'short' of it........ LOL
Aetna....... roughly US12&20 on the north, 15th Ave. on the south, Lake St. on the east and I-65 on the west.
ACCORDING TO WIKIPEDIA . . .
***
Aetna is a neighborhood in northeastern Gary, Indiana, south of Miller Beach and east of Interstate 65. As of 2000, the neighborhood had a population of 4,942, which was 83% black and 11% white.[1]
Aetna borders directly on Miller Beach to the northeast, but is separated from the Emerson and Pulaski neighborhoods to the west by the industrial corridor along Interstate 65, and from the town of Lake Station to the south and east by the floodplain of the Little Calumet River. Some definitions of the border between the Miller and Aetna neighborhoods place Aetna's northeastern corner at the intersection of Lake Street and the CSX tracks, with the result that Miller Station on the South Shore Line, the populous Glen Ryan subdivision, and half of Miller Avenue, are within the boundaries of Aetna. Other definitions restrict Aetna to the area south of U.S. 20.
Aetna's housing stock is dominated by small single-family homes,[2] with 89% occupancy and 66% owner-occupancy as of 2000.[3] Aetna's housing prices are significantly below the city average.[4] This contrasts to homes in neighboring Miller Beach, which are among the city's most expensive.
Aetna shares with Miller Beach the U.S. 20 retail corridor, one of the major retail areas in Gary.[5] It is home to a 3.5-acre city park, Aetna Park. Aetna is also near the much larger recreational areas of Miller Beach, such as Marquette Park and the Indiana Dunes National Lakeshore. It is served by a single bus route of the Gary Public Transportation Corporation; the same route also serves Miller Beach.
Aetna was founded in 1881 as a company town for the Aetna Powder Company, a munitions manufacturer.[6] The location was chosen in part for its remoteness, in rolling dune and swale country nearly a mile from the small town of Miller. The factory employed about 500 workers, most of whom lived in Aetna although some commuted from nearby towns. Originally the munitions had to be carted to the train station in Miller for shipment, but the arrival of the Wabash Railroad in 1895 gave Aetna its own train station.[7] The plant suffered from frequent violent explosions, often fatal; a 1912 explosion caused six deaths, and another in 1914 broke windows as far away as downtown Gary. During World War I, the factory employed 1200 people.[7] However, it closed after the war, and Aetna's population shrank to fewer than 100.[8]
Aetna was incorporated as a town in 1907.[7] It was annexed by Gary in proceedings lasting from 1924 to 1928.[8]
****
Aetna
Where exactly is Aetna? I know I've been through it hundreds of times but what are the boundaries of the neighborhood? I lived in Brunswick and later in South Glen Park off of 45th Ave.
Aetna/Miller
Hello Everyone,
I grew up in Aetna (1316 Idaho Street) and went to grade school at St. Mary's. My mother died in September, and I never thought that I would return to the area. However, due to Nemo, my flight to Boston was changed to Chicago. I was able to borrow a car and wanted to show my children where I had grown up. Unfortunately I couldn't show them much of St. Mary's since the new charter school had no one to accompany me. And when we drove from Miller to my old home, I was so shocked at how bad everything was. It's such a shame, since I have so many happy memories of my childhood.
Where is everybody?
I haven't seen any dialog for over a month, what's going on?
February 22, 2013 - 19:49
-
Wayne,
Thank You for remembering my brother. I wouldn't expect anything less from our extended "Brunswick Family". Thanks again.
February 08, 2013 - 23:15
THE BIG SWITCH
On Hovey Street, we also went from TUrner 5 to 949, for our telephone exchange. As best I can recall, however, our actual phone number remained the same!?! Thus, TUrner 5-9483 simply became 949-9483-- with a 219 area code, also, of course.
February 08, 2013 - 08:24
Old phone books
Blair, no one in my family would ever dream of asking for money and would be honored to do it. Let me know what you find out and we'll go from there. Also, did you see the post from Marc? He may have what you are looking for.
Wayne, our old house before moving to Glen Park was 5700 W 11th Ave, and Burr Steet (right on the corner) and the phone number was 949-4226. Oddly enough, my father in law passed away two years ago on Jan 17th.
I didn't use anything to find the grave, I learned that Knotts was buried in Oak Hill from a Gary history book. From there I went to the cemetary and asked them for a plot location. As for the previous owners of my parents' home, I knew that the man shot himself in the house in 75 so I went to the library and looked in the obits and found him. I went back a few days and found the article about his suicide. With his name, I did the same thing, went to Oak Hill and asked for a plot location.
I'm trying to find out as much as I can about a Lew Wallace teacher named Mary Cheevers who was murdered back in the 50's. I think that she is buried in Ridge Lawn on Ridge Road.
February 08, 2013 - 05:16
Old Gary Directories
Hello Marc,
Thanks for replying. I will be contacting you. Blair K.
February 07, 2013 - 21:47
Rick
So Rick, what was your old phone number? LOL
If i remember correctly ours was TUrner 5-7002. It later became 949-XXXX (don't remember!) with the early 60's modernization. Utilizing those old phone books should clear that up for me. Going through some old papers i found a magazine from a school project with the address label on it i received in 1962 at our old address.... 4414 W. 11th Avenue. I also found some old mail my parents received including a W-2 for my father from American Bridge.
Rick, About grave sites, what do you use? I have always used FindAGrave.com. For YEARS i could not locate my Paternal Great Grandmothers grave in Louisiana. I finally located it through Find a Grave and there was a photo of her headstone AND someone posted a photo of her with my fathers cousins in 1922. Some chills ran up and down my spine when i spotted the date she passed..... Jan 17, 1927. My father passed away on Jan 17th! (1983).
Wayne Hudak
February 07, 2013 - 18:28
Beauty Shop 1940's
My grandmother, Charlotte Bowman owned a beauty shop downtown Gary circa 1945. Any pictures, memories, or news?
February 07, 2013 - 16:42
-
To Whom It May Interest,
About the mid-80's, I helped a friend mine clean his garage out in Merrillville,In. . Several boxes in the rafters were to be thrown out, however, I kept them, as they contained Gary Directories from the first "Polk Directory" in 1909 and numerous years up to 1975. They are in excellent condition and many have fold out advertisements and Yellow Pages."
If interested, you may call me at:
269-470-5637
Email: premil4000@hotmail.com
February 07, 2013 - 14:33
Vintage phone books
Hello Rick
Thank- you so much for your offer - much appreciated. Last night I send an email to Lake County Library (Merriville, IN) requesting info on Baker Chevrolet Inc in Gary. I am awaiting their reply. If nothing transpires from that I would compensate ($) your nephew for going to the library and researching the dealership for me. Also thanks for your email address. I will keep in touch. Take care. Blair K.
February 07, 2013 - 03:16
Old phone books
Blair K, I just realized that you are in Canada. I'm in Tampa and I don't know when if I'll next be in Gary, but I have family there so if you have no other means, I'll see if one of my nephews would be kind enough to run over to the library on US 30 and have one of the staff there photocopy the advertisement for Baker Chevy that was located on 650 E 5th Ave. If they'll do it, and E-mail it to me, I'll let you know via this web site. Once I have it I'll E-mail it to you. In case this site goes down, you can always send me a reminder at riccvargas@aol.com. Are you looking for 1968 specifically? If you give me the year, I bet I can do one better and have one of the library staff there photocopy an advertisement from the Sunday paper which might just show a corvette.
February 07, 2013 - 03:07
Old phone books
Blair, I am very happy to help. From what Wayne H says, you can't take the phone books out of the library, but I don't know if they are viewable from a web site. I live in Tampa and am able to check out books from the library here for my E-book for free. Next time I'm home I'll get a library card for Lake County and take advantage of what I can get from them for free.
I stayed in the Indiana Room for almost four hours when while there, I found my mom and dad listed in phone books as far back as 1957. Did you know that they listed the head of the household's occupation in the phone book back then? Two of the most fascinating things I found, were obituaries from the turn of the century which went into great detail about how people died to include family members' comments as to who might have killed their loved ones. The other thing that I found was a complete set of books listing every known veteran who served on both the North and South during the American Civil War. Until I found those books, I didn't know for a fact that my mother's great uncle served as a Confederate soldier. But there he was in black and white. It gave me his first name, last name, home town etc. He was a Mexican citizen serving with a Mexican infantry unit in Texas between 1862 and 1865. I also found the name of my uncle in another history book which identified him as the first Mexican known to have settled in Gary, in 1915. The great part about it was that he was still very much alive when I found the article in 2001.
Using their micro slides and their reader, I found the name of the couple who lived in house that I was raised in, in Glen Park, before my parents bought the house in 75. Next I found their obituaries which led me to their actual grave sites at Oak Hill on 45th Ave near Lew Wallace High School. I learned that the couple lived in the home for nearly 40 years before they died and at the grave site I learned that the couple had three children all three buried with them. None of which survived more than a couple of weeks. I also found Thomas Knott's (Gary's first mayor) and Mrs. Knott's grave.
One last thing; you can subscribe to a archive news paper for about $15.00 a year. I'll see if I can't find the web address for you. I get deployed just before I subscribed but now I'm back and I plan on finding it. I hear that Gary's newspapers (back when there was more than one) are in there. If I can't find it for you, I would call the universities' history dept on Broadway and they will know the web site. Fascinating stuff!
Rick
February 06, 2013 - 22:34
Old Phone Books
Hey Rick, thanks for the info! I do know about the Indiana Room at Lake & Porter County libraries but never thought about phone books. Although i did not visit the library (PoCo) myself, i gave a list of books about Indiana railroads to my son to check out for me. Come to find out, i can't check out the books to bring home. Anything in the "Indiana Room" is for in library viewing only. I imagine Lake Co is the same. It would be extremely awesome if the phone books could be viewed online.
February 06, 2013 - 13:30
Baker Chev Inc in Gary IN (Vintage phone books)
Hello Rick
That inquiry would have been me. OMG, Rick, that is AWESOME. Thank-you for replying - much appreciated. How do I go about inquiring about these vintage phone books? Can I do so on their website online or contact them directly? Once again - thanks for your time and info.
Blair K (Canada)
February 05, 2013 - 06:20
Vintage phone books
A couple of months ago someone was trying to get information on a car dealership and no was able to help. Well I have some good new to whoever that was and to anyone else who is interested. The Lake County Library on US 30 in Merriville as a room they call the Indiana Room, and in it, are hundreds of Gary phone books dating back to the first phones. In those phone books are advertisements for just about every business in Gary.
February 01, 2013 - 22:35
NO APOLOGY NECESSARY, WAYNE . . .
. . . except from the people who knocked my old school down and, in the words of Joni Mitchell, "put up a parking lot!" The new public school was built behind that parking lot, where the Holy Rosary Hawks football team used to practice, back in the 1960s. The tennis courts, behind the fire station, are now basketball courts-- although, they did build a new pair of tennis courts, back where the Senior League field used to sit. Whether either court site is flooded in winter, for ice skating, as when I was a boy, I have no idea. Have you noticed that every public school in Gary now seems to be named "the [Whatever] Academy"-- or else is a charter school? I am sure that test scores have soared as a result of the boost in "self-esteem" that such new nomenclature induces....
February 01, 2013 - 03:33
Holy Rosary school correction
I apologize, i assumed when the news reported the plane crashed "near a school", it was Holy Rosary School, not knowing it had been torn down. None the less a school is in the same location, slightly east of where the former HR school stood, The West Gary Lighthouse Charter School.
OBITUARIES
I found Mr. Kasiak's obituary, from almost five years ago:
***
EDWARD P. KASIAK SR. age 81 of Portage formerly of Merrillville and Gary passed away Thursday May 22 2008. Survived by four children: Edward (Karen) Kasiak Jr. of Crown Point Gina (Glen) Brumm of St. John Christina (Kevin) Anderson of Virginia June Kasiak-Gambla of South Carolina eight grandchildren: Paul and Neil Kasiak Bryon and Kristin Brumm Kevin Jr. and Elizabeth Anderson Katie and Julia Gambla two sisters: Rose (late Edward) Waite of Virginia Wanda (Walter) Syjut of Merrillville. Preceded in death by wives Norma and Mary brother Ted Brzychcy. Edward a member of Our Lady of Sorrows Church Valparaiso He was a retired assistant operator from the Gary Sheet & Tin Mill U. S. Steel with 30 years of service a member of American Legion Post 260 a former member of Forresters and Izaak Walton League and Moose Lodge 783. He was a World War II Army Air Corps veteran and attended Tolleston High School. Friends may call at Pruzin Brothers Funeral Service 6360 Broadway Merrillville Sunday from 2:00 to 6:00 p.m. Legion Service at 5:00 p.m. Funeral service will be Tuesday May 27 2008 at 9:30 a.m. from Pruzin Brothers Chapel and 10:00 a.m. from St. Andrew the Apostle Catholic Church 801 W. 73rd Ave. Merrillville with Rev. Douglas Mayer. At rest St. John Cemetery Hammond IN.
[There also was a picture of him, looking very sharp, in his Army Air Corps outfit! By the way, Our Lady of Sorrows was our own new parish, after we moved from Brunswick to South Haven.]
***
I also found a condolence from Gina herself, from just last September, at the Post-Tribune Web site, for an Elaine Denta, who apparently also was a former resident of Brunswick:
***
Dear Mr. Denta and Family,
I am so sorry to hear about Mrs. Denta's passing. You were both such endeared friends to my father, Ed Kasiak Sr., and always so kind whenever I saw you. My prayers and thoughts are with you and your family.
With My Deapest Sympathy,
Gina Kasiak-Brumm
***
Wayne, that ill-fated plane could not have hit Holy Rosary School, only the church; the school was torn down!
More Brunswick
Interesting as more posts are made, more names pop up that i have long forgot about.
@Dan Hand, I went to school at Merrillville High School with a Linda Kasiak. I do believe she was in my class ('69). Could she be related to Gina? I can not locate Linda in my '67 or '68 yearbooks, my '69 yearbook is MIA. You also mention a Petritis..... i worked with a Tony Petritis at the Main Post Office for a while, he was a retired Gary Police Officer. Sometime in the '80's Tony's daughter (or niece from M'ville, i can't remember!) hung out with us at Nab's Lounge in Portage. You also mentioned 2 older brothers born in '47 and '48, they probably played with my brother Tim Hudak (b. Nov 18, 1948). at BLL. Holy Rosary....... my family attended HR but us kids went to public school. My cousins Marilyn and Steve Hudak did attend Holy Rosary school.
@Paul Hill.... you mentioned the Grcevich family lived behind you. Did you see my post from Dec 24th that George Grcevich passed away, just 2 days after Wally Kankowski? I checked out that link you provided for pics at the old BLL field. I gotta scream when folks post pics from cell phones! aaaaahhhhh! LOL There was a small plane that crashed near the LL field about 6 months ago, killing both aboard. A little farther north/NW it would have hit the old Holy Rosary school.
Anyone out there that grew up in Gary Heights in the 50's and 60's? We were the outcasts from Tolleston AND Brunswick!
I WAS A HISTORY MAJOR MYSELF . . .
. . . Alton, when I was an undergraduate at Purdue, in West Lafayette, with a double major in English. On May 13, 2013, it will be 35 years since I graduated, in absentia (I slept in that Saturday), with a B.A. Sigh.... How strange to learn, more than fifty years later, that Bonnie Beck lived just three blocks down, on my very own street, for all of those subsequent years, until either the Becks moved, to Chesterton, or the Hands moved, to South Haven!?! She was not the cutest girl in my Brunswick kindergarten class; but, she had the mostest, nonetheless!
-
Dan, if I remember correctly the Becks were very strong in the Methodist church. I remember Paul being in Demolay, a teen adjunct to the Masons. He had two cute blonde headed little sisters. They lived around 2nd and Hovey. I did not know where they had moved. In the spring of 65 we had debated U.S. involvement in Vietnam, but Frank's death really brought it home. I tried to get into the advanced ROTC program, but failed my physical. I taught HS history for 35 years and I am now retired.
PAUL HILL . . .
. . . if I ever knew that his surname was Ludington, rather than Lud, I long since had forgotten it!?! Ha!!! As I recall, my lovely classmate, at Holy Rosary School, Gina Kasiak, lived on your block. Her mother died, if I recall correctly, in about December of 1962, when Gina and I were in first grade. She was a very sweet girl. My eldest sister, Nancy, had her as a student, at Merrillville High School, as I recall, when Nancy was student teaching in English there. Nancy said that Gina even wrote something for class about her late mother, and how much Gina still missed her.
Alton, I figured that you had meant something similar. I was aware of Vietnam for years, as a child in Gary; but, it was in sixth grade, at South Haven Elementary, when it really became a daily fact of life for me, along with national politics. I still believe that 1968 was the most eventful year of American history in my lifetime-- even more so than 1963 or 2001! By the way, Alton, you mentioned the Becks, and I noticed that a handsome young man by that name was among your Class of '65 classmates, at Edison. Do you happen to recall if he had younger sisters named Becky and Bonnie? The latter was in my kindergarten class, and was my first serious crush. We were driven apart by religion-- as I moved on to Holy Rosary, for first grade, while she stayed behind at Brunswick Elementary. Years later, I learned that she was a cheerleader at rival Chesterton High School; and, ironically, a friend who went there, and who was a cheerleader herself, said that Bonnie was thinking of converting to Catholicism, because she was dating a Chesterton football player who was a Catholic, whom she was planning on marrying!?! Sigh.... Again, Alton, do feel free to e-mail me at Yahoo! Doug would be pleased, I know, to get back in touch with you, after all of these years.
-
I said that Vietnam loomed ahead for us. This was because the Vietnam War became real to me in June 1968 when Roy Cuevas knocked on my door to tell me his brother Frank had been killed.
Dan Hand, Alb, Wayne H
I guess I never get tired of talking about Brunswick, especially the BLL. Dan, I lived at 730 Porter Street, right behind the Grcevich family. It was a great neighborhood. Mr. Ludington lived at the corner, and he did have a beautiful yard. I played for the Yellow Jackets, Lud's Motor Sales, and Brunswick Community Club/VFW Post 7237. So much fun. Just a note, if you check out www.eteamz.com there are three pictures (a few years old) of the old BLL.